Articles About Ponant
Submit Your Own Review
QuirkyCruise Review of Ponant
Cruising for over a quarter century, this chic French line is a Francophile's dream. Ponant's crew is discreet, the décor is subtle and the food is tantalizing. French desserts, French cheeses and French wines accompany passengers on cruises around the world, from French Polynesia and the Caribbean to the North and South Poles, and lots in between.
Passengers are a well-traveled, well-dressed international lot and the handsome captains stroll around the ship in short sleeves chatting to guests as if they are one of the passengers. Ponant is a bit of Europe no matter where the ships are sailing.
In late 2014, the company's name was simplified from the French Compagnie du Ponant, to just Ponant, a simpler name for the company's growing international audience, though Ponant still remains the only French-flagged, French-flavored cruise line out there. Ponant is in the midst of building frenzy, with six 184-passenger expedition vessels in the pipeline between now and 2021. As they are delivered, itineraries will be expanded to offer more frequent sailings and brand-new destinations.
A hybrid electric icebreaker is to appear in 2021 and be able to make it to Geographic 90 Degrees North — The North Pole.
Note: Some sailings are directly operated by Ponant and others are under charter to well-known firms for individual sales as well as for special interest groups.
N.B. In August 2019, Ponant announced that the French-owned line has bought Paul Gauguin Cruises, operating the ship PAUL GAUGUIN in French Polynesia and that the ship will continue to operate under its current name.
Ship, Year Delivered & Passengers
LE BOREAL (built 2010, 132 passengers), L'AUSTRAL (b. 2011, 132 p), LE SOLEAL (b. 2013, 132 p), LE LYRIAL (b. 2014, 122 p), LE PONANT (b. 1991, 64 p), LE LAPEROUSE (b. 2018, 184 p), LE CHAMPLAIN (b. 2018, 184 p),  LE  BOUGAINVILLE (b. 2019, 184 p) and LE DUMONT-D'URVILLE (b. 2019, 184 p), LE BELLOT (due April 2020, 184p), LE JACQUES CARTIER, the sixth Explorer-class ship (due July 2020, 184p), and LE COMMANDANT CHARCOT (due April 2021, 270 p), specifically designed for polar explorations.
Passenger Profile
Mostly Europeans, heavy on French, Swiss and Germans, with a sprinkling of Francophiles from everywhere else — North America, Brazil, you name it. Children are welcome, but are expected to be well behaved; there is a children's menu, Wii gaming console, and when there are a number of kids on board, a few activities are organized by a staff member.
On a handful of special family-friendly sailings per year (often a Med itinerary in the summer), a Kids Club is offered with kids' counselors supervising games and activities for ages 4+. Several firms charter Ponant ships, so they will determine the languages, and a number of them are in the English-speaking markets.
Passenger Decks
6 with elevators to all decks (4 on LE PONANT, the motor sailing yatch, and no elevator)
Price
$$  Moderate to Expensive
Included Features
Open bar throughout ship, stocked cabin mini-bar, and all soft drinks. New for 2019 is free WiFi in all cabin categories on all ships.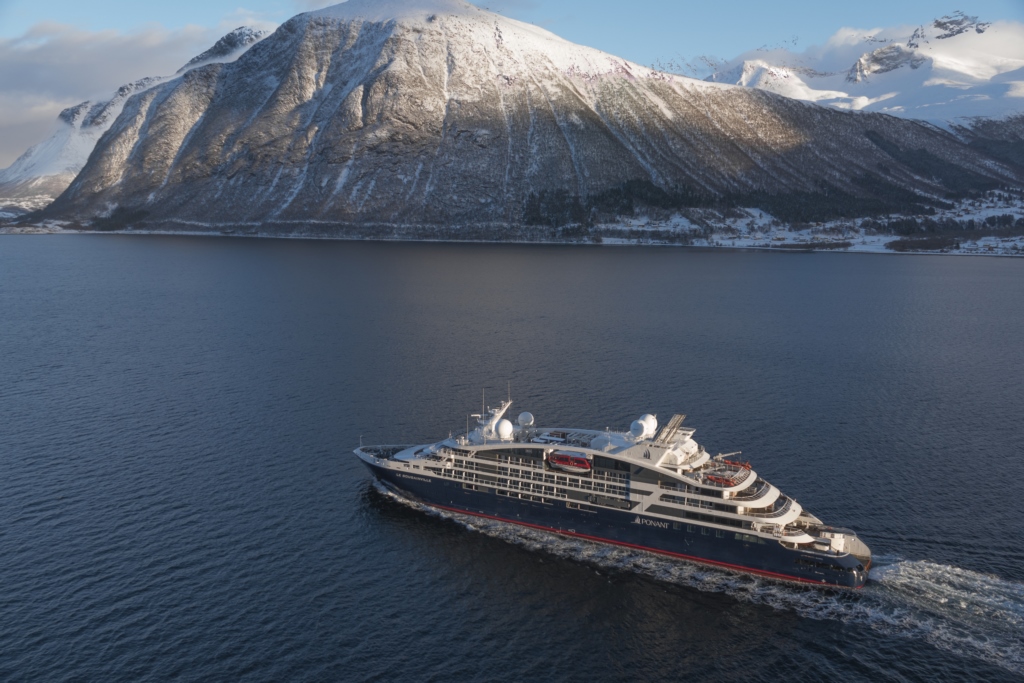 LE BOUGAINVILLE delivered in 2019 as the third ship in the explorer class. * Photo: Ponant
Itineraries
The ships, with such an expanding fleet, roam all over the world on one- to two-week cruises (some longer): Mediterranean and Northern Europe, Alaska and Canada, Caribbean, Central America, both coasts of South America, West Africa and Southern Africa, Madagascar, Seychelles, French Polynesia and Oceania, Hawaii,  Indonesia, East Asia and focus on Japan, Eastern Russia, Australia and New Zealand, Antarctica, the Arctic including the Northwest Passage, trans0ocean positioning voyages. A few highlights include (and it's a moveable feast:
10- and 16-night Antarctica cruises November – February
Iceland & Arctic Circle cruises in summer; also Northwest Passage, Eastern Canada, Great Lakes
6- and 7-night cruises out of Martinique to the Grenadine Islands in the winter; also Cuba (Cuban calls suspended due to a US government ban.
7-night Croatia cruises round-trip out of Venice between May and September; also Western & Eastern Mediterranean and Egypt
9-night New Zealand cruises in January and February; also Australia's eastern coast
7- to 13-night Alaska cruises in June and July; including Aleutian Islands
13-night Chile cruises in November and February; also Amazon and Orinoco rivers, Sea of Cortez
New tropical destinations are being added to include the Seychelles archipelago in the Indian Ocean, also Maldives and Madagascar, and the Solomon Islands in the South Pacific, also French Polynesia, Easter Island
South and Southeast Asia, Indonesia, Japan, Eastern Russia.
Why Go?
The French flare, the amazing food, the gorgeous interiors — tres chic. In 2018 Ponant signed an agreement with National Geographic Expeditions to have the latter's experts and photographers come aboard in Australia, New Zealand and Asia/Pacific.
When to Go?
The fleet cruises in different regions of the world at the best time to visit.
Cabins
LE PONANT is an 88-meter, three-masted sailing ship with lots of wood and nautical touches such as navy blue and white bedding and fabrics in the rooms. Most cabins are on the lowest of the four passenger decks and have twin beds — two rooms have king beds — and there are a few triples. Five larger cabins are higher up on the Antigua Deck.
LE BOREAL/L'AUSTRAL/LE SOLEAL/LE LYRIAL are nearly identical sister ships with the majority of cabins measuring between 200 and 236 square feet, not including the balconies (which all but eight cabins have). Cabins are designed in stylish neutrals of champagne, smoky greys or blues, and crisp whites with pops of color, like a red border on a bed throw or pillow.
All cabins are stocked with L'Occitane toiletries, bathrobes, mini bars and iPods, and a have a great split bathroom set-up — toilet in one little room and a large shower (and/or tub) and sink in another. They also have a desk and great adjustable reading lights on either side of the bed. Many standard cabins can accommodate three people with one on a sofa bed; ideal for families are the Prestige suites, which are ostensibly two connecting standard cabins. There are four large suites on the Deck 6 near the top of the ship.
The new 184-passenger sisters LE LAPEROUSE (2018), LE CHAMPLAIN,  LE  BOUGAINVILLE, LE DUMONT-D'URVILLE, LE BELLOT, and  LE JACQUES CARTIER  began arriving in mid-2018 and will continue into 2020. A feature on the new ships is the Blue Eye, an underwater sightseeing lounge. They make up what is termed Ponant Explorer Class with enhanced ice-breaking capabilities.
Public Rooms
LE BOREAL/L'AUSTRAL/LE SOLEAL/LE LYRIAL have two restaurants, one main entertainment lounge, one combination lounge/bar, and a lovely outdoor bar with sea views. There is no casino. Each has a spa with a Turkish steam room, hair salon, and an excellent ocean-view gym with a row of treadmills and recumbent bikes, plus a Kinesis wall with weights, pulls and grips for weight training.
A small library area (with a Wii console nearby) and a boutique round out the public areas, unless you also count the medical clinic. The smaller LE PONANT has two restaurants, two indoor lounges and lots of deck space for sunbathing. All five of the vessels have a platform for watersports when anchored in favorable conditions.
Dining
Cuisine is a big part of the Ponant experience, and I still sometimes dream about the dark chocolate mousses we devoured on a L'AUSTRAL cruise to Croatia (I gained several solid pounds on that cruise). Each of the five ships has two restaurants, one a more formal fine-dining multi-course French gourmet venue for dinner and the other a casual buffet restaurant with outdoor and indoor seating and themed offerings. Some of the chefs are French (the pastry chef was on my last cruise) and no matter where they are from, they've been schooled in the French culinary tradition.
Meals incorporate fish and grilled seafood, and plenty of delicious soups and salads of all kinds. When possible, local ingredients are used, from cherries in Kotor, Croatia, to rainbow trout from Nunavut, in the Arctic. Amazing desserts on offer might comprise a hazelnut mousse cake, lemon meringue tarts and that to die-to-for chocolate mousse already mentioned; easily the best desserts I've ever had on a cruise ship.
A selection of cheeses from France and Italy are a staple in the buffet and of the complimentary wines generously poured, I remember an especially refreshing French rose at lunch on route to our next Croatian port of call. You can always order a bottle off the extensive menu if you want something extra special.

Activities & Entertainment
The ships are in port every day, or nearly so, but if there's a sea day, most people enjoy simply sunbathing by the pool and soaking up the scenery. In the French way of doing things, there isn't an abundance of scheduled activities or group events. There are theme cruises from time to time focused on gourmet food and wine, film and topics like oceanography, with experts on board giving talks and demonstrations.
Evenings, a singing duo moves around the ship before and after dinner to serenade passengers as they sip cocktails and chat about the day's adventures and the ones that lay ahead. At the top of the tiered decks at the stern on LE BOREAL/L'AUSTRAL/LE SOLEAL/LE LYRIAL is a wonderful al-fresco bar, an ideal place to plant yourself as the ship sails off into the sunset — likewise on LE PONANT's sun deck. After dinner from time to time, a dance performance or film screening may be scheduled in the show lounge of the four sister ships.
The new and larger 184-passenger sisters LE LAPEROUSE, LE CHAMPLAIN,  LE  BOUGAINVILLE, LE DUMONT-D'URVILLE, LE BELLOT, and  LE JACQUES CARTIER started to debut in mid-2018 and continued into 2020, and the larger 270-passenger LE COMMANDANT CHARCOT will launch polar explorations in April 2021.
Along the Same Lines
SeaDream is close.
Contact
Ponant Yacht Cruises & Expeditions, 420 Lexington Avenue, Suite 2838, New York, NY 10170; us.ponant.com, 1-888-400-1082.
— HMS
Don't miss a post, subscribe to QuirkyCruise.com for monthly updates!  
© This article is protected by copyright, no part may be reproduced by any process without written permission from the author. All Rights Reserved. QuirkyCruise.com.