Reader Reviews About Viking
Submit Your Own Review
QuirkyCruise Review About Viking (was Viking River Cruises)
Viking River Cruises (now Viking), established by former officials of the old Royal Viking Line, has grown by leaps and bounds, including introducing more ships in one year than has ever occurred before. More than a score of itineraries covers the European waterway network from Portugal's Douro River that empties into the Atlantic eastward to Russia's and Ukraine's canals and rivers, and from the Dutch and Belgian waterways bordering on the North Sea across Europe to the mouth of the Danube as it flows into the Black Sea.
Viking goes most everywhere the other lines go and offers more choices of itineraries, length of cruises and land and air packages. Simply, Viking dominates the European river cruise market because it operates more boats (presently 72) than any other line, by far, and still growing.  In Asia, riverboats explore the Yangtze in China, and the Mekong in Cambodia and Vietnam. Egypt is again offered with cruises on the Upper Nile and Lake Nassar. Viking also operates well-received deep-sea cruise ships to establish Viking Ocean Cruises (now just Viking) but their passenger capacities exceeding 900 are well beyond our small-ship passenger limit. More are under construction and under option along with expedition ships.
Note: In 2020, four 168-passenger Viking Longships (similar features but smaller in size for operations on the Seine) will be delivered and then actively participate on 8-day Paris and the Heart of Normandy cruises. Passengers will embark alongside the Eiffel Tower.
Note: Viking has also long made hints about entering the river cruise market along the Mississippi and its tributaries with a fleet of European-style riverboats. Now, an official announcement was made in April 2020 in New Orleans that the first of a fleet of large riverboats will be built for the Upper and Lower Mississippi. The first five-deck vessel will take up to 386 passengers and appear in August 2022. While the capacity exceeds our 300-passenger limit, all other American Cruise Lines riverboats have been covered by Quirky Cruise, hence this one, the first of several, will be covered too. By law, the vessels must be built in the U.S. to sail along American inland waterways. Stay tuned for the location and progress while construction gets underway.
Note: Without missing a beat, Viking will also enter the expedition market when the VIKING OCTANTIS enters service in January 2022 with a program in Antarctica and the Great Lakes. While the passenger complement of 378 exceeds the QuirkyCruise limit of 300, we will include the most important features on this page.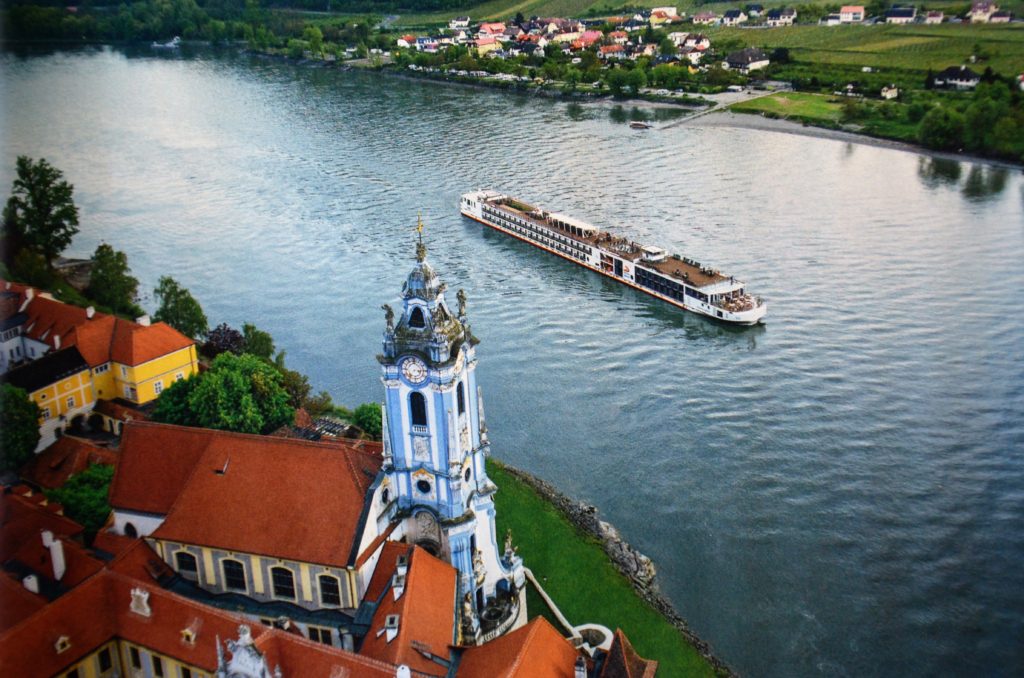 RELATED:  New Viking Einar Impresses a First Timer … by Judi Cohen.
Passengers
Most passengers are 50+ and American or at least English-speaking who are looking for a relaxed and convenient way to see the regions of Europe. Children under are not permitted.
Price
$ to $$$  Moderate/Expensive/Very Pricey. Huge variations in rates occur, especially when 2 for 1 promotions are offered.
Included Features
Shore excursion in every port; wine, beer, soft drinks at lunch & dinner; bottled water, cappuccino, coffee & tea at a 24-hour beverage bar; Cabin TVs with movies on demand, CNBC, CNN, National Geographic, and other channels, Internet/Wi-Fi (connection speed varies widely); cruise tours include hotel stays and transfers between hotel and ship; airport transfers included when air travel is purchased from Viking.
Itineraries
Europe, Russia, Egypt, Southeast Asia and China, most 8 to 15 days; some cruise tours in Asia extend to 18 days; the granddaddy of all European river journeys stretches from Amsterdam to Bucharest, lasting 23 days. All cruises operate in both directions. See details below when discussing the ships.
Why Go?
Years ago before river cruising took hold in a big way, many travelers desirous of seeing several countries in one trip booked a bus tour and that meant multiple one and two-night hotel stays in a half-dozen, maybe more, cities. With the rivers and canals already in place to move cargo on barges between ocean ports and inland cities, long-distance river travel was a natural outgrowth. Then in 1992 a construction project linked the Rhine and Main to the Danube, and it became possible to embark in a Viking Longship in Amsterdam located just in from the North Sea and sail more less southeast all the way to the Danube Delta on Black Sea coast of Romania.
Riverboats once seen as merely comfy conveyances with mostly picture window cabins, an observation lounge and a windowed dining room, now boast suites, French balconies, true verandas, and alternate dining venues and more activities off the boats than bus and walking tours with such diversions as cycling (independently or in a small group) and hiking.
The bottom line for river cruising is convenience, as in many cases, the riverboat ties up next to the heart of the city and you simply walk ashore. In between, instead of driving along a busy highway, the getting there is via scenic river cruising with some of the intercity travel taking place as you sleep. Sun decks provide 360-degree views while underway.
When to Go?
Most European itineraries are seasonal with April to October the norm though some cruises begin as early as March and run as late as December for the Christmas markets. Summer months will find many riverboats following roughly the same popular itineraries with busy, and sometime crowded, sites ashore. The fringe seasons have the advantage of fewer boats sharing the same docking facilities and disadvantage, for some, of cooler and less predictable weather. Beyond Europe, the itineraries may be almost year-round, and note that the Yangtze River Valley can feel like a furnace from June through August.
Activities & Entertainment
Applies to all ships. Onboard, the offerings are daytime lectures, demonstrations, cooking classes, wine tasting and light entertainment such as a pianist and/or local musicians in port. Included shore excursions using audio headsets allow participants to hear the guide out-of-doors and inside museums and churches while  speaking in a normal voice. On board, a concierge can arrange ballet and theater tickets, restaurant reservations and help you plan an independent day ashore.
Ships & Years delivered
The number of passengers; number of passenger decks; layouts; special features; and cabin details will be outlined for each class of riverboat under the cruising regions that begin below.
European Rivers
The Viking Longships class number almost four score at present dating from a building spree that began in 2012 and continues into the present with six new ships added in 2016 and six more in 2018. In spring 2019, another seven were launched on a single day at different shipyards, with seven more under construction. The list of names runs from Viking Aegir to Viking Vili. These spiffy new riverboats carry 190 passengers on four decks in a bright and airy, understated Scandinavian atmosphere using big picture windows, light fabrics and colors, skylights, atriums and indoor/outdoor lounges, restaurants, and bars.
Cabins number 95 of which nine are 2-room suites with veranda & French balconies*; 39 verandas; 22 French balconies*; and 25 standard (located on the lowest deck and with smaller windows). Note here and for some other Viking vessels that *French balconies are not balconies at all but with the cabins having sliding doors that open to a railing.
The Observation Lounge, located behind the indoor/outdoor terrace, has a sit-up bar, for drinks, daytime activities, lectures, and light entertainment. A library corner and Internet access are located just aft of that and share the second level of the atrium, with the reception and shop below. The Sun Deck has covered and open lounge space spanning nearly the vessel's full length, plus an oval walking track and putting green. An herb garden is located aft. The elevator connects only the Upper and Middle decks, and not cabins on Main Deck nor the Sun Deck.
Viking has upgraded its menus following the introduction of the new ships, and as the line caters to mostly middle American tastes, don't expect gourmet meals or rich sauces as one would experience on an ocean-going luxury line or a truly upscale river fleet. The Longships have two dining venues, the main restaurant (buffet & served meals) and the indoor/outdoor Aquavit Terrace (light meals and an alfresco grill). It's open seating and you dine with whom you wish. Chances are you will be sailing on a Longship in Europe on most all itineraries but the Douro in Portugal and the Elbe in Germany and the Czech Republic where smaller purpose-built ships operate.
RELATED: Viking River Cruise in the Ukraine … by Gene Sloan.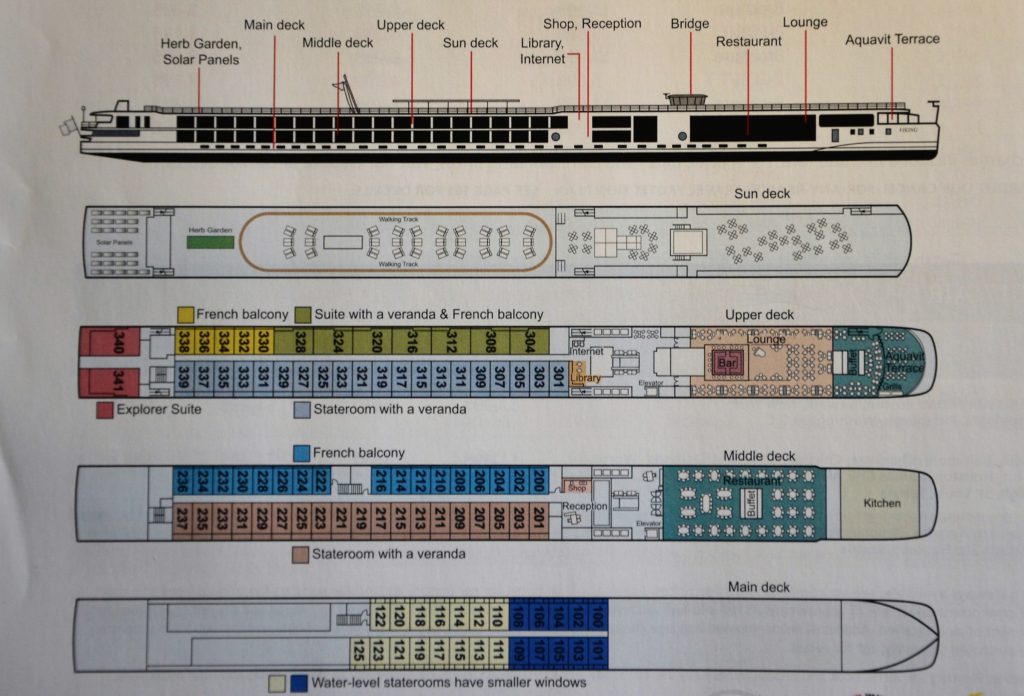 Viking Longships Deck Plan * Photo: Viking
The following preceded the Viking Longships on European itineraries, plus one trio specifically designed for the confines of the Douro in Portugal and a pair to sail under low bridges for the Elbe.
*Viking Fontaine, *Viking Schumann (older ships/refurbished 2010/2011) carry 112 passengers on three decks with observation lounge forward and restaurant on the deck below. Cabins are all outside with eight having French balconies, while the Upper Deck cabins have picture windows that open while Main Deck windows are fixed.
*Viking Astrild, *Viking Beyla (2015) carry 98 passengers, have three decks and operate the Elbe cruises with low bridge clearances in Germany and the Czech Republic. The observation lounge is forward with the Aquavit Terrace facing over the bow for light meals and refreshments, while the restaurant is on the deck below. Cabins include 2 suites, 19 veranda cabins and 14 with French balconies, all located on the Upper deck. Main Deck cabins have windows.
*Viking Hemming,*Viking Torgil, *Viking Osfrid (2014 & 2016) carry 106 passengers, have four decks and sail exclusively on the Douro Rover in Portugal. The observation lounge is forward with the Aquavit Terrace facing over the bow for light meals and refreshments, while the restaurant is on the Middle Deck below along with an adjacent Al Fresco Restaurant. The Sun Deck has tables for outdoor meals, a small pool, golf putting range, and loungers with covered and open sections. Cabins include 11 veranda suites, 23 verandas, 3 French balcony cabins and 16 window cabins on Main Deck. An elevator connects cabin and public room decks.
Europe note: With such a large fleet, riverboats assigned to specific itineraries are subject to change.
Below is a healthy sampling of nearly two dozen European itineraries combining hotel stays bracketing a river cruise. If you are a first time river cruiser, good luck deciding which one to take. If a veteran cruise maven, most of Europe is your oyster.
Grand European Tour (15-day cruise, April to October) from Amsterdam, Netherlands via the Rhine, Main and Danube rivers and sailing through Germany, Austria, Slovakia to Budapest in Hungary.
Romantic Danube (8-day cruise, late March to October) from Nuremburg, Germany via Main-Danube Canal and Danube River through Austria to Budapest, Hungary.
Danube Waltz (8-day cruise, late March to October) from Passau, Germany via the Danube through Austria to Budapest.
Rhine Getaway (8-day cruise, mid-March to October) from Amsterdam in the Netherlands via the Rhine, calling at Cologne, Koblenz, Heidelberg, Strasbourg, south through to Basel, Switzerland.
Tulips & Windmills (10-day cruise, March and April) from Amsterdam including 2.5 days sightseeing via Dutch and Belgian rivers and canals to the Islemeer at Hoorn, Arnhem, Ghent, Rotterdam and more then back to Amsterdam. Additional itineraries include calls at Antwerp and Nijmegen (SE Netherlands)
Cities of Light (12-day cruise-tour, April to October) from Paris (2 hotel nights) then coach transfer via Luxembourg (sightseeing) to the riverboat at Trier, then along the Mosel, Rhine and Main rivers to Bamburg, Germany and coach transfer via Nuremburg to Prague, Czech Republic (2 hotel nights).
Paris to the Swiss Alps (12-day cruise-tour, March to October) from Paris (2 hotel nights) then coach transfer to Luxembourg (sightseeing) to the riverboat at Trier, then along the Mossel past vineyards to the Rhine and Mainz, Speyer, and Strasbourg to Basel, Switzerland with a transfer to Zurich (2 hotel nights).
Passage to Eastern Europe (11-day cruise-tour, late March to late October) from Budapest, Hungary (2 hotel nights) then riverboat down the Danube through Serbia, Bulgaria to Giurgiu and coach transfer to Bucharest, Romania (1 hotel night).
European Sojourn (23-day cruise, mid-March to late October) from Amsterdam via the Waal, Rhine, Main-Danube Canal and Danube through the Netherlands, Germany, Austria, Slovakia, Hungary, Serbia, Bulgaria to Giurgiu and transfer to Bucharest, Romania (1 hotel night).
Elegant Elbe (10-day cruise-tour, mid-March to October) from Berlin (2 hotel nights) then coach transfer to the riverboat at Wittenberg and via the Elbe and Vltava rivers through Germany (Saxon Switzerland) and Czech Republic to Decin and coach transfer to Prague, Czech Republic (2 hotel nights).
Portugal's River of Gold (10-day cruise-tour, late March to October) from Lisbon (2 hotel nights) via coach transfer to Coimbra and the riverboat at Porto, then along the Douro River with a full-day coach excursion to Salamanca, Spain and back along the Douro with port calls for lunch and wine tasting, a castle and religious site to Porto, Portugal.
Paris & the Heart of Normandy (8-day cruise, mid-March to October) from Paris via the Seine to Claude Monet's Giverny, Rouen (for the cathedral and Normandy Beaches) then upstream with port calls to visit chateaux back to Paris. New itineraries along the Seine also include WWII sites and D-Day beaches.
Lyon & Provence (8-day cruise, mid-March to October) from Marseille to the Rhone at Arles, then Avignon, Viviers, Tournon, Vienne, Lyon and along the Soane to Macon, Cluny Abbey and Beaujolais wine country, ending at Lyon Airport.
Chateaux, Rivers & Wine (8-day cruise, late March to October) from Bordeaux along both the Dordogne and Garonne rivers to Sauternes, St. Emilion, Médoc, and Margaux wine regions, two UNESCO sites and Cadillac, returning to Bordeaux.
Russia & Ukraine
Viking Akun, Viking Helgi, Viking Ingvar, Viking Truvor (older ships refurbished 2013/2014) carry 204 passengers on five decks and operate the 13-day St. Petersburg-Moscow Waterways of the Tsars itineraries. The Panorama Bar looks forward on the Upper Deck with a large restaurant aft on the Middle Deck below. A windowless library with Internet is on Main Deck. Cabins include 2 suites, 2 junior suites, 67 verandas, and the remaining with windows that open facing the side wraparound promenade. Elevators link the cabin and public room decks. A similar vessel, Viking Sineus, plies Ukraine's Dnieper River between the capital at Kiev and Odessa facing the Black Sea, and 11-day cruise tour.
Waterways of the Czars (13-day cruise, early May to mid-October) from St. Petersburg (3-day stay on riverboat) via the Neva and Svir rivers, Lake Onega, Volga-Baltic Waterway, Rybinsk Resevoir, Volga River, and Moscow Canal to Moscow (3-stay stay on the riverboat). Ashore, attend dance and music performances, and aboard the guides share Russian and Soviet history and current affairs, cooking and Russian language classes.
Egypt
Mayfair (150p) and Omar El Kayam (160p) form the 4-night and 3-night cruise portions of a 12-day itinerary that includes Cairo for the Pyramids, Sphinx and Cairo Museum, a cruise along the Upper Nile for Luxor, Karnak, Edfu, and Kom Ombo and another cruise just above the Aswan Dam on Lake Nassar for Abu Simbel and other temples. Viking Ra, Viking-owned and operated (52p), made its debut in 2018 as a completely rebuilt riverboat offering all two-room suites (291 sq. ft.), making it one of the most luxurious vessels on the Nile. To follow in September 2020, Viking will begin operating the 82-passenger Viking Osiris , the first European built, owned and operated Nile cruiser, if that is all important to some seeking an Egyptian cruise.
Southeast & East Asia
Viking Mandalay (2012 & 56p) had operated Irrawaddy Cruises in Myanmar (Burma). However, four-deck Viking Mekong (b. 2012 & 56p) plies the Mekong River in Cambodia and Vietnam. The replica-style riverboats evoke an appealing colonial atmosphere with lots of wood paneling and airy public spaces. The indoor lounge is forward and the Sun Deck lounge and bar is sheltered from the sun by a canvas awning. With floor to ceiling French doors that open during cool weather, the restaurant serves Vietnamese and Western dishes at breakfast and luncheon buffets plus served dishes and a served dinner. All cabins are outside, with two of the three cabin decks offering sliding French doors that open to side promenade equipped with rattan style chairs and decorative potted palms.
Mekong River: Cambodia & Vietnam
Magnificent Mekong (15-day cruise-tour, early January to March then July to October) from Hanoi, Vietnam (2 hotel nights), fly to Siam Reap, Cambodia (3 hotel nights), coach transfer to riverboat at Kampong Cham then 8 days along the Mekong in Cambodia and Vietnam to My Tho and coach transfer to Ho Chi Minh City (Saigon), Vietnam for 2 hotel nights. Viking Mekong.
Irrawaddy River: Myanmar (Burma) 
*This itinerary is not now operating. However, details are included for reference in case these trips resume.
Myanmar Explorer (15-day cruise-tour, September to December) from Bangkok, Thailand (3 hotel nights) then fly to Yangon, Myanmar (4 nights) and fly to Mandalay embark in the riverboat for 8 nights along the Irrawaddy back to Mandalay and fly to Bangkok (1 night). Viking Mandalay.
Yangtze River: China
Viking Emerald (2011) carries 256 passengers on five decks while operating the Yangtze River cruises. The Sun Deck houses the Emerald Bar with high-up views, a reading room, massage room, sauna, gym and outdoor deck space aft. The observation Lounge with a bar is on the deck below and the restaurant resides on Main Deck aft. The menus include Chinese and Western dishes. Cabin accommodations include 2 suites, 14 partitioned suites, 4 junior (one-room) suites and the rest, 108 with verandas. An elevator serves all decks.
Imperial Jewels of China (14-day cruise-tour, February to October) from Shanghai (2 nights) then fly to Wuhan to join the riverboat for a 7-day cruise along the Yangtze River via the Three Gorges and Three Gorges Dam to Chongqing then fly to Xian (2 hotel nights) and fly to Beijing (3 hotel nights).
Roof of the World (17-day cruise-tour, March to October) from Beijing (3 hotel nights), fly to Xian (2 hotel nights), fly to Lhasa (3 hotel nights), fly to Chongqing , join riverboat for a 7-day cruise down the Yangtze via Three Gorges and Three Gorges Dam to Wuhan and fly to Shanghai (2 hotel nights).
Undiscovered China  (19-day cruise-tour, March to October) from Beijing (3 hotel nights), fly to Xian (2 hotel nights), Chengdu (2 hotel nights}, Lijiang (2 nights) and Chongqing to join the riverboat for 7 days along the Yangtze via the Three Gorges, Three Gorges Dam to Wuhan and fly to Shanghai (2 hotel nights).
Special Notes
Water levels along European rivers rise and fall with the seasons and/or heavy rain falls and long dry periods. Occasionally, if the waters rise to flood stage, the riverboats may not be able to pass under low bridges, or the reverse, insufficient water to proceed without possible grounding. In that case, you may be bused to another vessel on the far side of the blockage and/or put up in hotels.
Along the Same Lines
The stable of river cruise lines is ever expanding, and Viking happens offer the largest fleet.
Contact Info
Viking, 5700 Canoga Avenue, Suite 200, Woodland Hills, CA 91367;  www.viking.com; 877-668-4546
— TWS