Blue Lagoon Cruises
Blue Lagoon Cruises operates a spiffy small 68-passenger catamaran on informal seven-night cruises to a string of tropical islands in the Fijian chain. While the company was established over a half-century ago, its present style of operation with the FIJI PRINCESS began in 2004. The emphasis is on visits to the islands, the people and a whole host of activities ashore while the vessel is at anchor or even tied to a coconut tree.
There is minimal sailing time as the islands are very close together, and if the water is at all rough, the vessel may shelter on the lee side away from the winds. Fiji is a popular stopover between the U.S. West Coast and New Zealand and Australia, so North Americans may set down here for a week, take the cruise and then fly onward to the antipodes. Cruises operate year-round.
Ship, Year Delivered & Passengers
FIJI PRINCESS (built 1998, acquired 2004; 68 passengers) Most passengers will be adults (and honeymooners) from Australia, New Zealand (the closest large countries), then British, Europeans and North Americans. Designated cruises, especially during school holidays, include activities for families with children. The crew is all Fijian.
Passenger Decks
Four decks, three with cabins, and no elevator.
Price
$$
Itineraries
Cruises last seven days, while three- and four-day stints are also available with transit from the main embarkation port by high-speed transfer vessel. Very little time is spent sailing, usually not more than four hours a day, as the primary objective is to enjoy the string of islands and the water-based activities.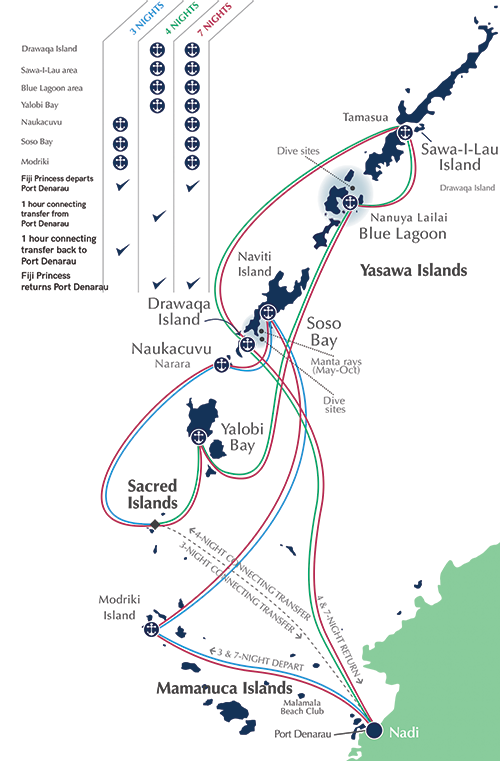 The departure port is Denarau Marina, a short distance from Nadi Airport on the main island, for a sail out to the Mamanuca and Tasawa Islands. The cruises offer tropical island settings with virtually uninhabited beaches, a range of water-based activities, and a cultural experience among the island locals and the all-Fiji crew.
As the catamaran FIJI takes just 68 passengers, the atmosphere is relaxed and as social as you would like it to be.
Included Features
All excursions and water sport activities including snorkeling gear, spyboards (lie on a floating platform and look through a window to view underwater activities while propelling with one's feet),  and kayaks, coffee, tea, juices, filtered water.
Gratuities, diving gear, sport fishing, and alcoholic beverages are extra. A donation made to the Vinaka Fiji Trust is added to the final bill, and the amount may be removed or adjusted upward or downward. The trust aids villagers who are living below the poverty line, and the cruises visit one of the locations.
Why Go?
Once you leave the main island, you will soon enter another seemingly far away world that is only a few hours sailing aboard the FIJI PRINCESS. The seascapes are blue, while the islands are white sands with tropical landscapes, welcoming local people and adventures ashore and in the calm waters. Fiji makes a fine stopover with direct flights to and from the U.S. West Coast and then via much shorter flights to and from New Zealand or Australia.
When to Go?
The weather chart shows that the best months to visit are between late March and early December, with November to April having the most rainfall, occurring in brief downpours. Daytime high temperatures range from 79F (26C) to 88F (31C) — not much of a variation in this tropical part of the world. Trade winds are normally east-southeast, and cyclones may appear in the wet season.
Cabins
The Upper and Middle Orchid Decks hold most of the cabins, here outside with windows and approximately 142 sq. ft. (13 sq. m) with queen or two single beds. Hibiscus Deck, below the Orchid deck, has cabins of 117 sq. ft (11 sq. m) and queen or single beds, windows and a location on the dining saloon deck.
Shared amenities amongst all the cabins include a welcome fruit platter, complimentary daily stocked mini bar (beer, wine, soft drinks & bottled water), a sun care pack, in-cabin Nespresso coffee machine,  tea making facilities, and cabin TV for  DVD viewing.
Public Rooms
The main lounge with bar faces aft on the Middle Orchid Deck, and a second bar is on the top Sky Deck where the sun loungers (deck chairs) are located.
Dining
The covered restaurant is located aft on the lowest Hibiscus Deck and faces aft to a splash pool and then over the stern. The food emphasizes local fresh fruit, fish and vegetables, and is served in an informal setting facing aft over the stern. Seating is open and in addition to breakfast, lunch and dinner, morning coffee and afternoon tea are also served. A boutique and reception are also located on this level.
Activities & Entertainment
While anchored in a lagoon, shore trips visit remote villages, discover Fijian culture, partake in an island feast as well as learn how to prepare your own, explore several caves, and visit schools. Just relaxing on South Pacific island beaches is another appealing option, and one stop will be at the line's private beach.
Water sports choices are swimming, including with manta rays, stand-up paddle boarding, and snorkeling. Diving and fishing trips are optional extras. A glass bottom boat makes trips for viewing underwater. On board, there is a splash pool, spa, and deck chairs on the upper sun deck. Entertainment comes aboard at some island stops.
Special Notes
On trips to Fijian villages, dress is modest. Men are provided with a sulu knee-length skirt-like covering and women are asked to cover up their bare shoulders.
Along the Same Lines
Captain Cook Cruises also operates in Fiji.
Contact
Blue Lagoon Cruises, PO Box PD052, Port Denarau, Fiji Islands; www.bluelagooncruises.com, (679) 675 0500.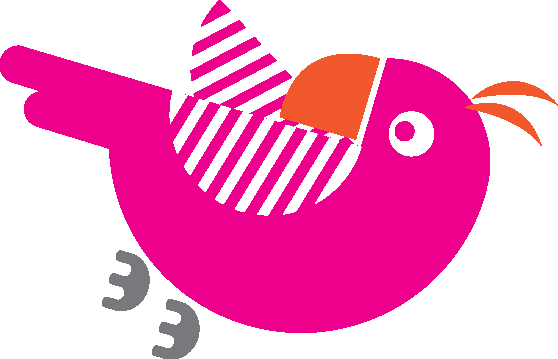 Don't miss a post, subscribe to QuirkyCruise.com for monthly updates!  
© This article is protected by copyright, no part may be reproduced by any process without written permission from the author. All Rights Reserved. QuirkyCruise.com.