Articles About Hapag-Lloyd Expedition Cruises
N.B. HANSEATIC INSPIRATION will resume sailings for the English and German-speaking markets when the ship departs from Hamburg on September 7, 2020 on a cruise to Greenland. The following few sailings will feature Western European and Mediterranean ports. The ship will sail at 60% of capacity and will have a full day in port to undergo a thorough cleansing. Before that, the initial sailings ex-Hamburg mostly will be offered only to Germans, Austrians and Swiss.
Submit Your Own Review
Hapag-Lloyd Expedition Cruises
Hapag-Lloyd Cruises traces its origins back to the 19th century when two German firms — Hamburg-American and North German Lloyd — entered the passenger trade, competing largely on the North Atlantic and then spreading their routes to other parts of the world. Later they merged, and today the passenger cruise business is owned by the TUI Group that operates the top-rated, medium-size cruise ships, EUROPA (built 1999 & 400 passengers) and EUROPA 2 (b. 2013 & 500 p), the latter offering guaranteed English-speaking cruises; and a pair of expedition vessels: BREMEN (b.1990 & 155 p) and HANSEATIC (b. 1991 & 175 p), the latter now sold with a trio of high-tech expeditions ships coming on line. The BREMEN may offer some bilingual cruises from time to time and is also chartered by English-speaking affinity groups.
N.B. In late July, Hapag-Lloyd announced that its BREMEN, a long-serving member of the fleet since 1993, will not return to service. There was no mention about the sale to Scylla scheduled for 2021, whether it will be advance or not.
N.B. A trio of high-tech expedition ships with 120 passenger cabins and suites have the first in service and two under construction: HANSEATIC NATURE entered service in May 2019 for German-speaking passengers, HANSEATIC INSPIRATION (October 2019) for both German- and English-speaking passengers), and HANSEATIC SPIRIT (adults only) for delivery in Spring 2021. The 15,650-ton ships are being built in Norway's VARD shipyard.  Passenger capacity will be limited to 199 for Antarctic and Spitsbergen (circumnavigation) cruises. Additional details will be available on QuirkyCruise.com as the first delivery gets closer but it is safe to say that this class will be 5 Star in accommodations, amenities, expedition gear and ice classification.
Passengers
While Hapag-Lloyd is a German company, drawing mainly German-speaking passengers, selected bilingual cruises are set aside for English-speaking passengers with guaranteed departures. That means that all documentation, handbooks, programs, announcements, menus, lectures and safety drills will be in English. Shore excursions are arranged separately. Any other international cruises that attract at least 15 English-speaking passengers will automatically become bilingual as the aforesaid  Those cruises will be featured here, and expect German-speaking passengers in varying numbers and often in the majority.
Passenger Decks
7 decks and lifts serve all levels except the Sun Deck, the highest and with a small outdoor area.
Price
$$$
Included features
Expeditions ashore in Zodiacs (14) and tenders; parkas, rubber boots, snorkeling gear, Nordic walking poles and bicycles, depending on the itinerary; staff gratuities; sending & receiving e-mails up to 1MB; minibar with soft drinks replenished daily; a bottle of Champagne upon arrival.
Itineraries
A full winter program of Antarctica cruises include the Falklands, South Georgia, South Shetland and South Orkney Islands, Weddell Sea, and the Antarctic Peninsula. The large number of Zodiacs carried means that everyone can be on an excursion at one time, and not waiting aboard for a second or third rotation as with larger capacity ships. Highlights are the varieties of penguins, incredible numbers of birds (especially at South Georgia), whales, walrus, seals; Zodiac excursions to get close to beautiful ice formations and glaciers, a former whaling station, and connections to the Ernest Shackleton expedition.
Pre-Antarctic season, a Pacific cruise begins in Tahiti and calls at numerous islands, remote and virtually unknown, and justly famous such as Pitcairn (Mutiny on the Bounty), Easter Island (stone statues) and Robinson Crusoe Island (inspiration for the fictional character) and onto Puerto Montt at the north end of the Chilean fjords.
Post-Antarctic season, one cruise makes a nearly complete West Coast of South America voyage from near the southern tip at Patagonia and sails northward past glaciers, into the Chilean fjords, calls at Valparaiso, the lovely port for the capital Santiago then onto Peru and Ecuador.
The Amazon journey begins way up river at Iquitos (Peru, and headwaters of navigation for ocean-going ships) and travels 2,500 miles (4,000 kms) to the mouth at Belem. Zodiacs take you to remote Indian tribes who live along the riverbanks and to tropical fruit and vegetable markets, cruise for pink river dolphins, make explorations into tributaries penetrating the world's largest rain forest, filled with flowers and exotic birds. At the meeting of the waters where the Rio Negro joins the Amazon sits Manaus, the largest city on the river and boasting an opera house, built during the rubber boom period. The Amazon then widens considerably as it reaches the delta and spreads out into several channels.
From Belem on the northeast Brazilian coast, the itinerary explores the Orinoco, offers a flight to Angel Falls, calls at off-shore islands, a UNESCO site, national parks for bird life, sloths, and monkeys, a research station, examples of Spanish colonialism, San Blas Indians, views of the Caribbean end of the Panama Canal, and finishes at Puerto Limon, Costa Rica.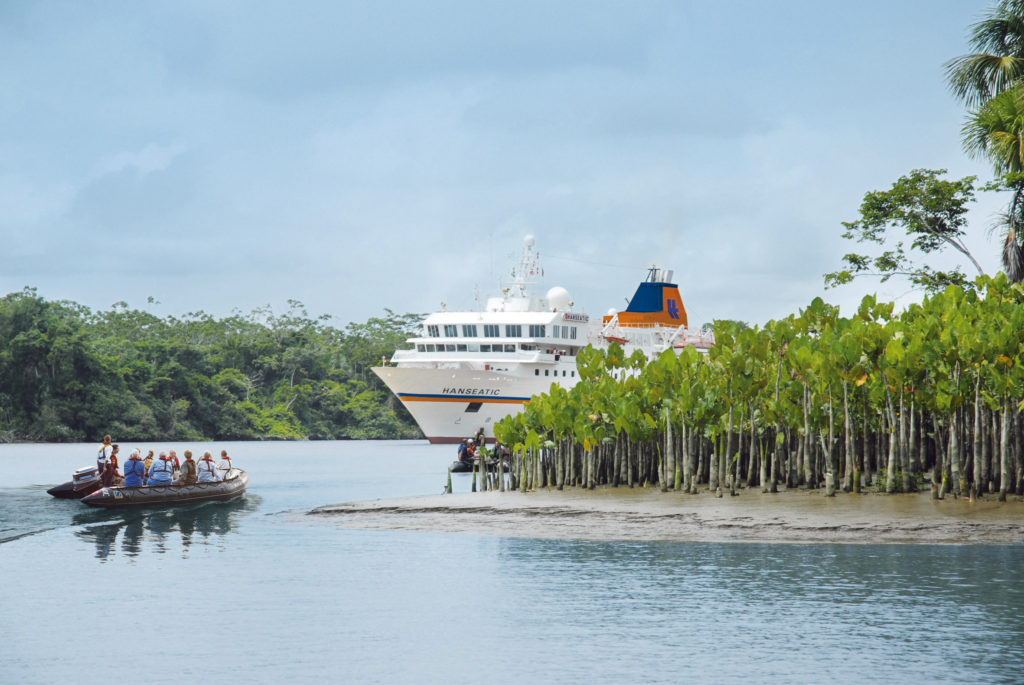 Spitsbergen (Svalbard), a circumnavigation cruise, is a large archipelago tied politically to Norway, two days by sea north of the North Cape and well above the Arctic Circle. The expedition embarks at Longyearbyen, the capital with an excellent museum, and goes in search of polar bears that often come to the shore, well within camera range, plus whales, walrus, Arctic foxes, birds, fantastic cliff formations, ventures into fjords, up close to glaciers and makes Zodiac landings where it safe from polar bears. The final couple of days visit the North Cape with disembarkation at Tromso, Norway's largest community above the Arctic Circle.
The Northeast Passage, less frequented than the Northwest Passage, follows an Arctic route from Northern Europe eastward across the top of Siberian Russia, Kamchatka and Kuril Islands to Japan.
FUTURE ITINERARIES include an unusual circumnavigation of Iceland embarking and disembarking at Reykjavik and visiting nine locations – islands, volcanoes, fjords, fishing villages, bird inhabited cliffs, waterfalls; the west coast of Greenland with its colorful villages, early Viking settlements, ice fjords, and at sea, humpback and fin whales, then onto Labrador for breathtaking scenery such as spectacular rock formations, Inuit culture artifacts, traditional fishing villages and fjords; coastal southern Africa with two port calls in Namibia revealing architecture from the former German colonial rule and six ports in South Africa including Cape Town and Durban and access to the lovely Garden Route, beautiful beaches, and game parks for the homes of the "Big Five."
Why Go?
There is a wonderful world out there, and the destinations outlined here can only be comprehensively done by ship.
When to Go?
The expedition cruises are scheduled for the best seasons such as Antarctica in the Northern Hemisphere winter and the Arctic Regions in summer.
Cabins
HANSEATIC Nature/Inspiration/Spirit: All outside cabins and most with balconies or French balconies; separable beds; equipped with binoculars, Nordic Walking sticks, coffee machine, minibar (free), and heated bathroom for drying towels and parkas.
Public Rooms
The principal spaces are the Observation Lounge with bar and adjacent library, with 180-degree views, Explorer Lounge with bar and a dance floor for presentations and occasional musical entertainment.
Dining
The restaurant is the main dining area for all meals (excellent menu selections including Continental as well as German specialties) seats everyone at one assigned sitting at dinner, with open seating for breakfast and lunch. Americans like open seating and Germans like fixed, so this is the fair compromise. Buffets-style meals take place in the informal café and tables are available just outside in good weather. Barbeques and themed dinners here require reservations, but entail no extra charge. Tea time is a daily ritual.
Activities & Entertainment
There are film presentations and lectures in preparation for the landings, plus you'll find a sauna steam bath, fitness room, whirlpool and small swimming pool. Some Germans like a dip in the winter. Snorkeling and cycling is on offer when appropriate.
Special Notes: Helicopter pad. Hull is given the highest passenger classification – E-4.
Along the Same Lines
The passenger mix is unusual, as most high-end expedition lines draw mainly English-speaking passengers, unless the line is entirely focused on a European language.
Contact
Hapag-Lloyd Expedition Cruises, C/O Kartagener Associates Inc., 14 Penn Plaza, Suite 2223, New York, NY 10122; www.Hl-cruises.com, 877-445-7447 or 800-334-2724 (USA/Canada); Free Phone United Kingdom: 08000 513829. — TWS