Articles About Scenic Cruises
Reader Reviews About Scenic Cruises
Submit Your Own Review
QuirkyCruise Review of Scenic Cruises
This luxury river cruise line was founded in Australia in 1986, expanded to the UK and Canada in 2007, and to the US in 2008. Most recently the line has broadened from its main focus in Europe, including Russia, to include Southeast Asia cruises. Expedition cruising began in autumn 2019.
Scenic includes lots of important features on its cruises and prides itself on not taking passenger credit card details at embarkation as there's little chance of making additional purchases on board. A partnership with National Geographic sees an expert and photographer on board all European cruises.
The parent firm also operates the more moderately-priced Emerald Waterways.
COVID-19 UPDATE
Scenic is aiming to restart operations Oct 31, 2020.
Be sure to check the line's website for up-to-date news.
To encourage bookings, for a limited time, Scenic is offering discounts on their European River cruises, plus chauffeured transfers and free deposit payment protection coverage.
Fleet
Space-Ships
Scenic Crystal (built 2012 & 163 passengers) — Rhine, Main & Danube Rivers
Scenic Jewel (b 2013 & 163p) — Rhine, Main & Danube Rivers
Scenic Jade (b. 2014 & 163p) — Rhine, Main & Danube Rivers
Scenic Jasper (b. 2015/16 & 163p) — Rhine, Main & Danube Rivers
Scenic Opal (b. 2015/16 & 163p) — Rhine, Main & Danube Rivers
Scenic Amber (b. 2015/16 & 163p) — Rhine, Main & Danube Rivers
Scenic Ruby (rebuilt 2019 & 159p) — Rhine, Main & Danube Rivers
Scenic Pearl (rebuilt 2019 &159p) — Rhine, Main & Danube Rivers
Scenic Diamond (remodeled 2013, 149p) — Rhône & Saône Rivers & Bordeaux, France
Scenic Sapphire (remodeled 2013, 149p) — Rhône and Saône Rivers & Bordeaux, France
Scenic Azure (b. 2016 & 96p) — Douro River, Portugal
Scenic Gem (b. 2014 & 126p) — Seine River, France
Other River Boats 
Scenic Tsar (b. 2013 & 112 p) — Volga River, Russia
Scenic Spirit (b. 2016 & 68p) — Mekong River, Southeast Asia
Scenic Aura (b. 2016 & 44p) — Irrawaddy River, Myanmar
Expedition Ships
Scenic Eclipse (b. 2019 & 228p) — Oceangoing expedition ship 
Future Plans
Second expedition ship scheduled to debut TK.
Passenger Profile
Seniors from 60s on up hailing from Australia and Britain primarily, followed by US and Canada.
Passenger Decks
Most of the riverboats have elevators that serve the two principal cabin and public room decks, and none reach the Sun Deck. SCENIC TSAR's elevator connects the three cabin and public room decks.
Price
$$ Expensive
Note: Emerald (partner company) is less expensive than Scenic.
For selected off-peak itineraries, the single passenger supplement is reduced by 50% or eliminated entirely.
Included Features
Shore excursions, divided into active, moderate and relaxed pace activity level
Scenic "Tailormade" app for self-guided tours
Unlimited beverages including stocked mini-bar
Picnics and bottled water for shore excursions
All meals in multiple dining venues
Wellness facilities
Tips
Wi-Fi
Use of e-bicycles (in Europe)
24-hour cabin service including butler service
Laundry service
Airport transfers
Itineraries
With so many riverboats in operation, Scenic offers many itineraries to choose from.
In Europe, itineraries from 7 nights explore the Seine, Danube, Rhine and Moselle, Rhône and Saône rivers, the rivers of Bordeaux and Portugal's Douro River. Many itineraries combine destinations and can last as long as a month exploring France or throughout Europe. Christmas-themed cruises at the end of the year are always popular.
In Russia, cruises tour the Volga River on 14- to 28-night itineraries.
Southeast Asia river cruises comprise 10 to 17 nights along the Irrawaddy in Myanmar, 7 to 12 nights on the Mekong in Cambodia and Vietnam, or a 25-night combination of both rivers.
Scenic Eclipse sails to every region of the world, for excursion cruises that last anywhere from one week to one month.
Scenic also offers several land-and-river packages in China, South Korea, South India, Egypt and Jordan.
Sample Itineraries
In Europe, the 7-night Gems of the Danube begins in Budapest, cruising to Vienna, Dürnstein (with a relaxing cycling tour to visit Melk), either Salzburg or Cesky Krumlov, Regensburg and ending in Nuremburg before transferring to Munich for departure.
In Southeast Asia, along Myanmar's Irrawaddy River, the Mystical Irrawaddy cruise begins in the capital city of Yangon for a few days of sightseeing before flying to Bagan, where passengers will embark on their cruise, with stops at Magwe, Minhla, Salay, Pakkoku, Yandabo, Mingun, Sagaing and Mandalay, where passengers disembark for a flight back to Yangon.
Aboard the Scenic Eclipse, the 15-day Arctic Islands cruise begins at Reykjavik in Iceland, sailing to Greenland's east coast to cruise along the coast and visit the fjords, to north-east Greenland to tour Greenland National Park, sailing on to the Svalbard Archipelago in Norway for arctic wildlife spotting and disembarking at Longyearbyen before flying to Oslo.
Why Go?
The passengers are truly an English-speaking union coming as they do primarily from Australia, Britain, Canada and the U.S.
When to Go?
The departures coincide with the better expected weather conditions with the busiest tourist season mid-June to September. Off-season allows you to share the trips ashore with fewer people  descending on the main attractions, and some of these sailings may be less expensive and/or offer single rates without a supplement.
 SHIPS
 Space-Ships
Scenic Crystal
Scenic Jewel
Scenic Jade
Scenic Jasper
Scenic Opal
Scenic Amber
Scenic Ruby
Scenic Pearl
Scenic Sapphire
Scenic Diamond
The fleet's 15 "Space-Ships" are similar across the board, with some slight variations that are identified in the write-ups below. For the most part, however, these luxury boats are similar in length and have four decks, three of which house cabins, connected by elevator except to the uppermost sun deck.
Passengers can take their meals in any of four fine dining rooms or in the casual café, with cuisines taking inspiration and seasonal ingredients from the surrounding locales. Special dining events can include high tea, al fresco barbecue and seafood galas. Scenic Sapphire and Scenic Diamond also hold small cooking classes on board. Drinks are served in the lounge and bar areas.
For down time, the "Space-Ships" have a sun deck, wellness area with massage services, fitness center, walking track, salon and gift shop. Scenic Crystal, Scenic Jewel and Scenic Jade have an additional salt therapy lounge while Scenic Jasper, Scenic Opal and Scenic Amber each have a Vitality Pool on the sun deck; Scenic Sapphire and Scenic Diamond have no salon.
While most carry up to 163 passengers in 82 cabins, Scenic Sapphire and Scenic Diamond have 75 each for up to 149 passengers. Cabins are proportioned similarly on each ship, the average sizes measuring between 215 – 430 ft2. All are outward-facing with large picture windows; most have a balcony, created with the top of the window lowered to open the space to the great outdoors. Cabins are nicely appointed and include butler service.
"More effort than the norm is spent providing memorable meals in a variety of settings. Multiple venues include the Crystal Dining Room, the main restaurant with tables for parties of two to eight and views through picture windows; River Café, casual dining for breakfast and a light lunch; Portobello, 5-course Italian fare for 32 passengers; and Table La Rive, a 6-course degustation menu for 10 diners at a time, reserved for Diamond Deck passengers." — Ted Scull
Scenic Azure
This smaller 96-passenger "Space-Ship" still maintains the same overall design and quality of the group (see longer review above), complete with four fine dining venues, casual café, lounge and bar, sun deck, wellness area, fitness center, walking track and gift shop.
Cabins are still as large as those on sister ships, but here there are only 48.
Scenic Gem
This 126-passenger Scenic Gem offers the same facilities as the rest of the fleet, with the addition of L'Amour fine dining.
The 63 cabins measure, for the most part, between 160 – 305 ft2.
Scenic Aura
Carrying a maximum of 44 passengers, Scenic Aura is the smallest river boat in the fleet, with five decks instead of four. It has the signature features of the "Space-Ships" with the inclusion of Vitality pool and bar, library and guest laundry.
All 22 cabins have balconies, most measuring between 258 – 430 ft2.
Scenic Spirit
This 68-passenger riverboat comprises five decks connected by an elevator. It also has an almost 1:1 crew-to-passenger ratio. Facilities include a dining room, café, sun deck, pool and pool bar, steam sauna, open-air cinema, library, wellness center, gym, library, and gift shop.
All 34 cabins have a balcony, with most between 344 – 430 ft2.
Scenic Tsar
At its debut, the 112-passenger Tsar was Scenic's first new-build ship to launch onto Russia's waterways for over 25 years.
Expedition ship
Scenic Eclipse
A 6-star luxury experience, the Scenic Eclipse expedition ship offers facilities and cabins located on 10 decks, serviced by an elevator. For dining, there are nine intimate venues plus 24-hour cabin service and eight bars and lounges.
Recreational facilities include a sun terrace, indoor and outdoor pools, Jacuzzis, yoga and pilates rooms, gym and fitness area, spa with Jaccuzzi, plunge pool, sauna, steam room and salon, library, boutique, theater, medical center, self-service laundry and Discovery Center.
Guided journeys are led by "Discovery Leaders," field experts, regional specialists and local guides, with tours via Zodiac, kayak, e-bike, plus two Airbus H130-T2 helicopters and a U-Boat Worx "Cruise Submarine 7" for underwater exploration.
The 114 cabins have a balcony, with most cabins measuring between 344 and 430 ft2.
RELATED: Peter Knego Cruises on the New Scenic Eclipse.
Activities & Entertainment
There are three types of shore excursions: Enrich, Freechoice, and Tailormade.
Tailormade excursions are designed for independent exploration at your own pace by foot or bicycle using a app providing the commentary and an interactive map. Subjects covered may be art, architecture, and history, and they are available in 140 locations. You can also use these tools on board.
Freechoice allows you to concentrate on your interests and whether you want an active, moderate or relaxed pace. Active might involve a hike or cycling outing; moderate, a city walking tour, and relaxed a museum visit or a canal cruise. Favorite hiking routes are the Danube Path through Austria's Wachau Valley and a coastal path near Bordeaux along Arcachon Bay.
Enrich excursions are led by an expert in history or local culture to get beneath the surface. On board cooking school, Scenic Culinaire, operates on the French waterways and that includes going to local markets to buy the ingredients for the onboard cooking component.
For a number of its European cruises, Scenic partners with National Geographic to offer National Geographic Expeditions, cruises with presentations from the magazine's acclaimed experts, photography lessons from its award-winning photographers and behind-the-scenes access during sightseeing excursions.
Scenic riverboats in Europe carry a fleet of e-bikes that help you propel your way into villages and vineyards so you become part of life ashore and not just a spectator. A handful of departures between May and September will come under the titles "Gems of the Danube," sailing between Budapest and Nuremburg, and "Rhine Highlights" between Amsterdam and Basel.
During the former, specialists in guiding bicycle tours of 15 to 60 miles will take passengers to breweries for beer tasting, along paths in the Wachau Valley, to Austrian grape wine-growing country, into Vienna Woods and through the hills of Buda in Budapest. The latter will visit the Alsace Wine Route, the Rhine Gorge, Cologne's network of cycling paths, and the outskirts of Amsterdam for cheese tasting. Non-cycling activities will also be offered.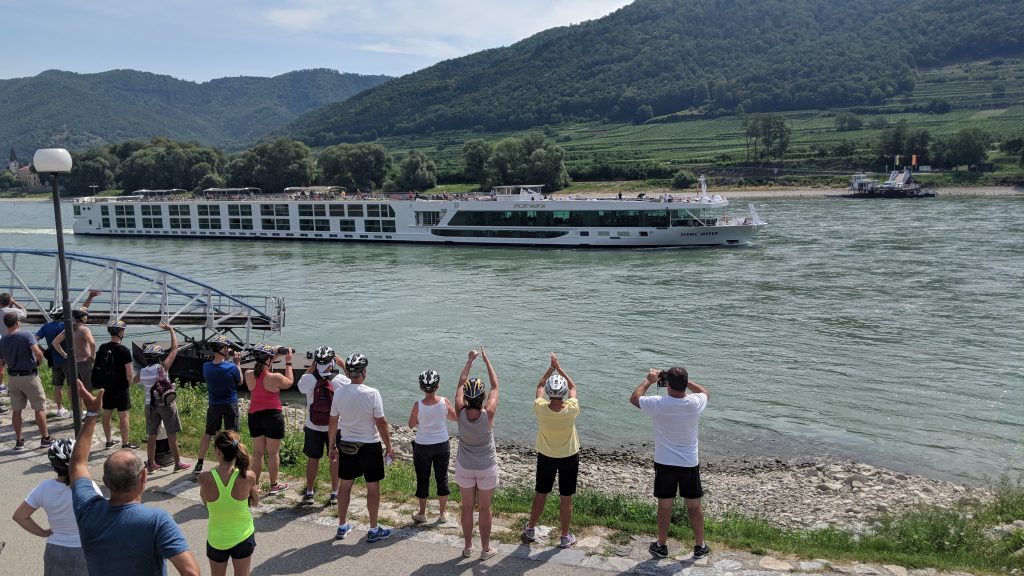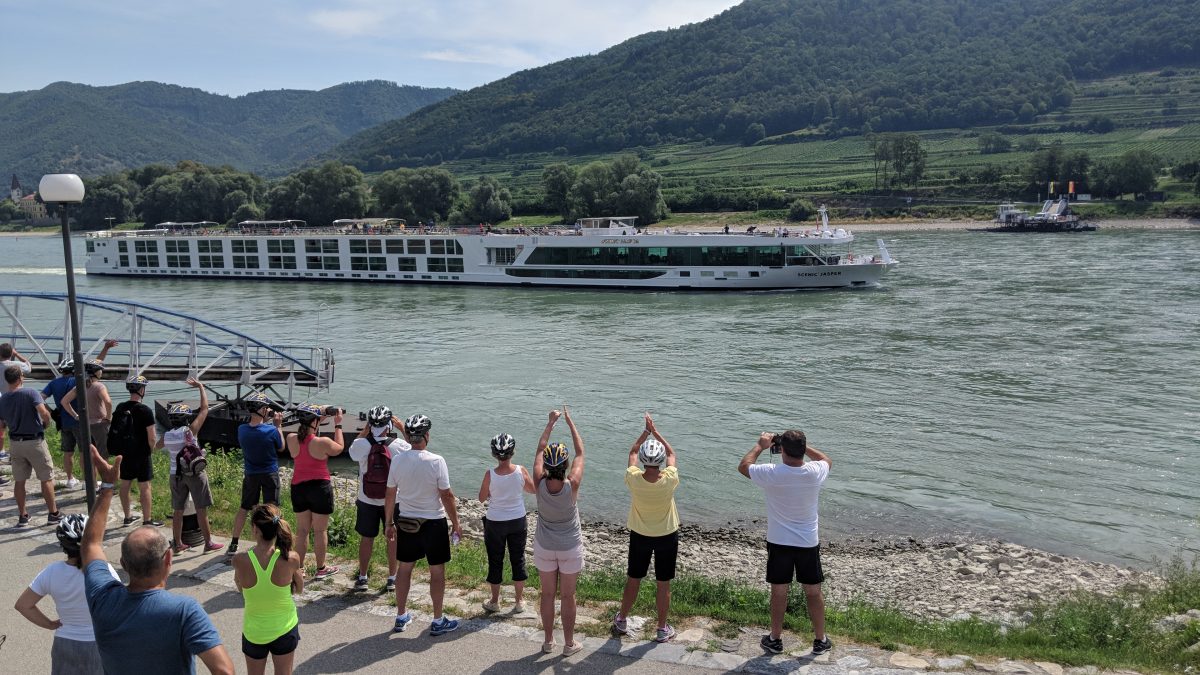 The boat's bikers stop to see the ship. * Photo: John Roberts
Special Notes
Single travelers pay no single supplements on selected departures in March, April and October to December. 50% of the single supplement is available on selected sailings May to September.
Along the Same Lines
Scenic is among the top lines to offer in-depth river cruising with lots of choices for sightseeing and enjoying meals aboard.
Contacts
USA —  One Financial Center, Suite 400, Boston, MA 02111; scenicusa.com. 855-517-1200; scenicusa.com
CANADA — Suite 1025, 401 West Georgia Street, Vancouver, BC V6B 5A1; Scenic.ca, 866-689-8611; scenic.ca
UK — 13th Floor, 111 Piccadilly, Manchester M1 2HY; Scenic.co.uk,  0161 236 2444; scenic.co.uk
AUSTRALIA — Level 15, 56 Pitt Street, Sydney, NSW 2000; Scenic.co.au, info@scenic.com.au; scenic.com.au
Don't miss a post, subscribe to QuirkyCruise.com for monthly updates!  
© This article is protected by copyright, no part may be reproduced by any process without written permission from the author. All Rights Reserved. QuirkyCruise.com.