SeaDream Plans to Resume Caribbean Cruises
By Anne Kalosh.
SeaDream Yacht Club is poised to become the first cruise line to resume sailing in the Caribbean in early November.
Replacing its planned program from the U.S. Virgin Islands, SeaDream I is now gearing up for a winter season of Barbados round-trips, a new itinerary that includes yacht harbors in Grenada and St. Vincent and the Grenadines.
This means SeaDream, which was the first line to resume international cruises in Europe in June, could make history again with this first-out-of-the-gate Caribbean program.
(Go, Quirky-sized ships!)
The 112-passenger SeaDream I, which alongside SeaDream II is wrapping up months of Norway-Denmark cruises, is to depart Oslo Oct. 15 on a 21-night trans-Atlantic voyage that arrives in Bridgetown, Barbados, Nov. 5.
From there, starting Nov. 7, the yacht will undertake 22 Barbados round-trips of mostly seven days. Destinations are St. George's, Grenada, and, in St. Vincent and the Grenadines, Kingston, Port Elizabeth (Bequia), Canouan Island, Mayreau, Tobago Cays and Union Island.
SeaDream's signature Champagne & Caviar Splash will take place at Mayreau.
The line hopes there will be so much demand that SeaDream II will be put on this route, as well.
Testing 1, 2, 3, testing …
Travelers must have a COVID-19 PCR test between 48 and 72 hours before arriving in Barbados, as mandated by the country. Local officials may require another test on arrival, depending on the visitor's origin. (The United States is currently considered high risk so Americans would likely be tested, though things may change between now and November. And they'll need to go from the airport directly to the yacht, not arrive ahead for a land stay, or they'd be subject to quarantine.)
At embarkation everyone will get a quick test using Abbot ID Now technology. A health questionnaire and thermal screening with facial recognition will follow, and passengers and crew will get a daily temperature check throughout the voyage. All of the yacht's interiors will be cleaned with a hospital-grade Altapure AP-4 ultrasonic fogger and UV-C technology will be used in accommodations daily.
Social distancing will be practiced on board. As of now, masks won't be required, though SeaDream said that's subject to change. In any case, masks will be provided.
At least initially, it's likely travelers will need to stick to SeaDream's organized shore activities in destinations.
After the last departure, on April 3, SeaDream I will head to the Mediterranean to resume published itineraries with SeaDream II.
Keel-laying for SH Minerva
Helsinki Shipyard held keel-laying festivities for SH Minerva, the first of two ice-class expedition vessels planned for the revived Swan Hellenic brand.
This saw the ship's first 347-ton block — newly arrived from Klaipeda, Lithuania, where it had been built and painted — being set on the keel over coins to bring good luck, in accordance with maritime tradition.
Minerva, the Roman goddess of wisdom, was also the name for a ship that sailed for Swan Hellenic, an iconic British brand that was known for cultural cruises. It went out of business in 2017 but is now being brought back by new owners.
The ceremony took place with Swan Hellenic CEO Andrea Zito participating via video link. "We're excited and honored to take Swan Hellenic into this next chapter," he said.
SH Minerva is due to arrive in November 2021 for an inaugural Antarctica season. The 10,500-gross-ton vessel will have accommodations for 152 passengers in 76 spacious cabins and suites, most with large balconies.
Ponant picks up momentum
Ponant, one of the first cruise lines to resume sailing over the summer, has carried more than 3,000 passengers aboard eight of its small ships on over 50 cruises, according to Seatrade Cruise News. Most cruises focused on the French coasts, Iceland and the Arctic.
In coming months, the line plans to branch out in the Mediterranean with sailings along the Dalmatian coast, to Greece, Malta and Turkey, and the Red Sea. Ponant officials still hope to operate Antarctica expeditions this year — but it's getting close; the season usually begins in October. They're also working to get approvals to sail in the Caribbean and the Seychelles.
Peek inside American Countess
American Queen Steamboat Co.'s fourth vessel, American Countess, was completed earlier this year but inaugural festivities and cruises have repeatedly been postponed by the pandemic.
The 245-passenger paddle-wheeler is scheduled to join American Queen and American Duchess on the Mississippi, Tennessee, Ohio and Cumberland rivers. (American Empress operates in the Pacific Northwest.)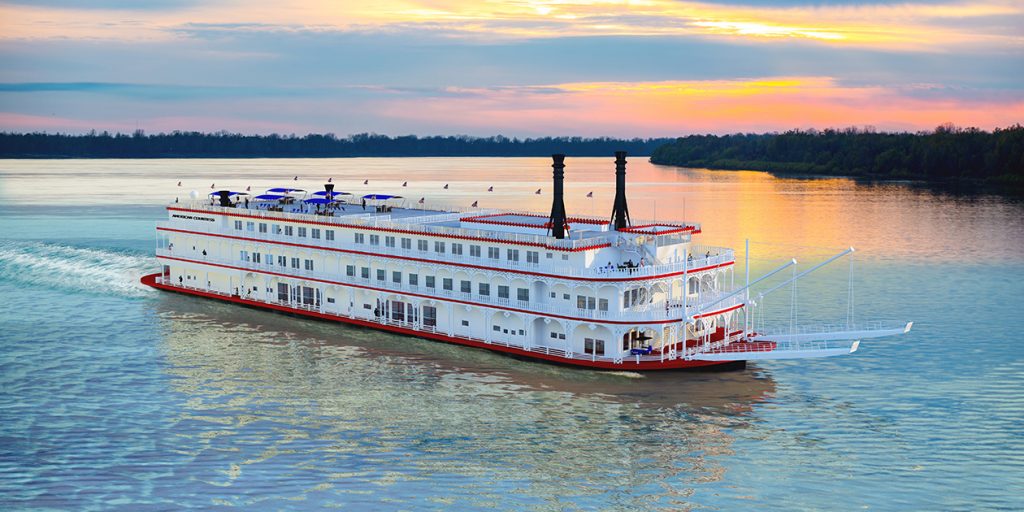 With four decks, including a sun deck, the new vessel sports a contemporary interior design with plenty of open space. The 120-foot-long portside bar provides floor to ceiling glass for panoramic river views. The accommodations are divided into four categories.
To give travelers a taste of what's in store, AQSC just released pictures of American Countess interiors including the Grand Lobby with its monumental chandeliers, the elegant Grand Dining Room, the River Grill with its big windows and the wood-paneled library.
Built using the hull of former gaming vessel Kanesville Queen, American Countess was lengthened by 60 feet and underwent a total renovation at Gulf Island Shipyard in Houma, Louisiana.
A sample 2021 American Countess itinerary themed on Abraham Lincoln begins with a pre-cruise hotel stay in Chicago before embarkation at nearby Ottawa, Illinois, and travels to St. Louis, Missouri (port of Alton, Illinois, across the river). Stops include Peoria and Havana, Illinois, and Hannibal, Missouri, the boyhood home of Samuel Clemens (Mark Twain).
In 1858, the Lincoln-Douglas debates started in Ottawa and ended at Alton. Alton is also where Lincoln and James Shields faced off with broad swords while preparing to duel in 1842. (Shields backed out.) Havana is located near Lincoln's New Salem, a reconstruction of the village where he spent his early adulthood. In Peoria, Lincoln tried cases as a lawyer and gave speeches as a four-term state representative and a U.S. Congressman. There, in 1854, he delivered his first public argument against slavery.
Victory provides paid Cal Poly internships
AQSC sister brand Victory Cruise Lines formed a partnership with California Polytechnic State University to give Cal Poly students the opportunity to fulfill paid "Learn by Doing" internships aboard the new Ocean Victory in Alaska.
This internship program will invite a select few to join the ship starting in spring 2021 for four to six months. The students will live and work on board Ocean Victory as it cruises between Vancouver, British Columbia, and Sitka, Alaska
Students will gain hands-on experience as they research Alaska's wilderness, environment and culture. Internship roles will range from creating educational presentations to guiding and participating in tours and passenger activities, including skiff tours, kayaking, hiking and Zodiac voyages.
The internship program is a passion project for AQSC Founder and CEO John Waggoner, a two-time Cal Poly graduate and one of its 2017 Honored Alumni from the College of Science and Mathematics. He majored in biology and earned his master's degree in business administration.
Interns will undergo training prior to the start of the season. This includes a U.S. Coast Guard certification, practical Zodiac operational training and specific Alaska expedition leader training certifications, as well as first aid/CPR training.
A&K charts Northeast Passage in its 30th year of cruising
Abercrombie & Kent founder Geoffrey Kent will host a Northeast Passage trek in 2021, the company's 30th year of luxury expedition cruising.
"In 1991 we set out to explore Antarctica, a place that speaks to my passion for discovery," Kent said. "Thirty years later, I am excited to explore a new frontier, the Russian High Arctic, alongside A&K guests and my wife Otavia. In this rarely transited, vast wilderness, each day's activities are determined by the captain and expedition leader based on ice, weather and sea conditions, as well as knowledge gained from years of experience. That's the appeal of expedition cruising — the unpredictability, and thrill, of adventure."
Tromsø to Nome
The Aug. 27 – Sept 21 voyage will navigate from Tromsø, Norway, to Nome, Alaska, visiting remote settlements across the Russian High Arctic, seldom-seen Siberian islands, isolated wildlife habitats and Arctic nature reserves.
Travelers can discover Soviet-era Russia with visits to Murmansk, the biggest city north of the Arctic Circle, and Provideniya, a former military port. Wrangel Island, a UNESCO World Heritage Site for its vast biodiversity, is known for walruses and bird life. The Great Arctic State Nature Reserve in the Kara Sea sprawls over 41,000 square kilometers and is home to polar bears, Arctic fox, reindeer and beluga whales.
Accompanying the Northeast Passage trek will be Kiliii Yuyan, a National Geographic photographer of Siberian descent who specializes in indigenous people, and expedition leader Steffen Graupner, a scientist who has explored Russia extensively.
The voyage will travel on a chartered Ponant ship and is limited to 199 passengers. The 26-day journey is priced starting at a cool $36,995 with an early booking discount. Any A&K luxury expedition cruise booked by the end of 2020 gives the flexibility to change travel plans for up to 30 days before departure in the event of a COVID-19-related reason.
New Windstar president
Chris Prelog, who began his seagoing career as a waiter, has been promoted to the Windstar Cruises presidency.
Austrian native Prelog has vast first-hand service experience from 18 years at Seabourn, where he started as a Seabourn Legend waiter and worked his way through roles including head waiter, restaurant manager and hotel director before becoming manager then director of hotel operations and vice president of hotel operations and purchasing.
As Seabourn moved to larger vessels, Prelog decamped to Windstar where some of the smaller Seabourn ships had gone, first as vice president of fleet operations. He was promoted to chief operating officer early this year.
Prelog has been leading the company's $250 million Star Plus initiative to lengthen and expand three yachts — including Star Legend (the former Seabourn Legend), managing operations through the pandemic and working with parent company Xanterra to develop the "Beyond Ordinary Care" health protocols in conjunction with the University of Colorado's Anschutz Medical Center.
RELATED: Windstar Cruising in the Sea of Cortez. by Elysa Leonard.

Don't miss great articles, reviews, news & tips about small-ship cruising, SUBSCRIBE to QuirkyCruise.com for updates and special offers!  
© This article is protected by copyright, no part may be reproduced by any process without written permission from the author. All Rights Reserved. QuirkyCruise.com.