Cruising Alaska on a Small Ship
By Ted Scull.
Alaska, America's largest state, is 2.5 times the land area of Texas and 430 times the size of Rhode Island, and unlike all the other states, except Hawaii, its mass is not contiguous to the Lower 48. For many folks, it appears to be two different states — the huge central portion that is most obvious on a map and location for the major cities of Anchorage and Fairbanks and Denali National Park, and the longish Alaskan Panhandle that juts southeast along the British Columbia coast. I
t is to the latter that most visitors go for the majestic sights of snowcapped mountains, deep fjords, the multiple moving tongues of ice in Glacier Bay, forests habitats to bears and moose, varied activities such as fishing, kayaking, paddle boarding and hiking, visiting native Alaskan communities and walking amongst those tall colorful totems, some recently carved to carry on the tradition.
The big cruise ships depart northbound for the Panhandle from Seattle or Vancouver or southbound to one of those two cities from Seward, a port just south of Anchorage. Many cruises are round trip from Seattle or Vancouver. Steaming time between the Panhandle and any of these three ports is two nights and one day each way. That necessarily limits the number of Alaskan port calls to three or four.
For the small ship fleet featured in QuirkyCruise, nearly all departures are from a prime Panhandle port, usually Juneau, the state's capital, or Ketchikan. Both cities have direct flights from the Pacific Northwest. Being positioned in Alaska the week is spent entirely in the Panhandle making one of two port calls or landings a day.
These voyages are more expedition-style than the mainstream mega-cruise ships. Some small ships sail the Inside Passage to position themselves in the Panhandle for the summer, with a single voyage up in May and down in September, while most others spend the winter layup in Alaska.
Why Go? 
To experience America's vast last frontier, a natural wonderland of fjords, mountains, forests, glaciers and wildlife.
The Panhandle's prime cruising area is relatively small requiring just a few hours of sailing time each day to locate sea lions, sea otters and harbor seals basking on the rocks, watching black bears and moose come down to the water or spotting pods of whales and dolphins in Icy Strait. Getting close up views without putting them in danger is easy for highly maneuverable small ships.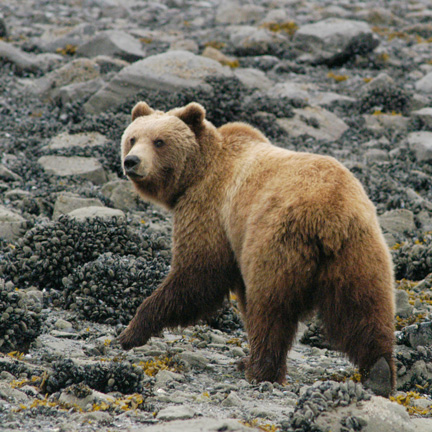 While sailing along narrow fjords beneath steep cliffs you may spot a small herd of mountain goats high above you and ease close enough to waterfalls to feel the spray. At the far end of Misty Fjord come face to face with a calving glacier that gently rocks the ship as a block of ice drops into the sea.
When to Go?
The Alaska cruising season begins in May and tapers off in September. The earlier in the season the more snow that will be present on the lower mountain slopes, but the higher peaks are snow-capped year-round. Newborn wildlife will be clearly evident in the spring and early summer. Whales migrate north to Alaska in late winter and early spring, hence the May to September whale period coincides with the cruise season. There are fewer tourists early and late in the season and many more, including families, from mid-June to August.
The Alaska Panhandle has a maritime climate, which means more clouds and possible rain at any time, but little of the searing heat that visitors may face in Alaska's interior. Mid-summer has the least amount of rain.
Cruising Alaska Itinerary Options
While most expedition cruises last a week, some are longer and others combine two different non-repeating itineraries to make two weeks. Coming all this way, think about adding a land package that takes in Denali National Park and the Alaska Railroad. The train operates between Anchorage, the state's largest city, Denali and Fairbanks and is equipped with sightseeing dome cars. Denali, the tallest peak, at 20,310 feet (6,190 meters) can be viewed on a clear day from a low base camp altitude that is 1,000 to 3,000 feet, making the mountain's vertical rise one of the world's highest. Caribou, moose, Dall Sheep, wolves, and maybe grizzly bears, may be seen in the valley below the park's access road. Fairbanks is the gateway to sternwheel steamer trips, rafting and a visit to a native Alaskan community above the Arctic Circle and the wilds of the Brooks Range.
Small vs Very Small in Alaska
The ships that we cover may carry as few as a dozen passengers on up to a couple hundred. A group of friends or extended family groups may like chartering their own small yacht with lines like Alaskan Dream Cruises. Those traveling on their own, as singles or as one or two couples, may prefer a larger vessel with more people to meet and a wider variety of activities offered at any one time, yet still small enough to call at isolated ports without the big cruise ship infrastructure that serves thousands.
Alaska Small Ship Port Overview
Many of Alaska's destinations are not the ports but the majestic fjords, landing at wooded islands for mountain hikes and glaciers, including Glacier Bay that combines several glaciers with abundant wildlife. What follows is a brief description of the main port towns, all but Juneau relatively small, but be warned that some many have more population from the big cruise ships on big boat days than local residents.
Ketchikan. Starting from the south end of the Alaskan Panhandle, Ketchikan may be one of the most crowded port call when several massive cruise ships are tied up, and what you see is mostly a shopping mecca. Some small ship operators use this port and for embarkation or disembarkations. While Ketchikan has a lot of mining history and is known as the salmon capital of the world, the most worthwhile sights are the Tlingit village of Saxman, displaying totem poles and the town's cultural past and the Southeast Alaska Discovery Center, educating all ages life-like displays of rainforests, salmon streams, and native buildings.
Petersburg. A much smaller town, Petersburg has a Norwegian heritage that is kept alive with culinary, musical and dancing events with participants (often children) wearing traditional celebratory Nordic clothing. However, it is the fishing industry that is the lifeblood of the economy and the locals give small-group tours.
Juneau. Built up against a mountainside, the state's relatively isolated capital with no road access to the outside world, offers a couple hundred miles of hiking trails, the large and receding Mendenhall Glacier just out of town, the Mt. Roberts Tram for spectacular views, several museums touting the state's and immediate area's cultural and gold-mining history, and plenty of shops to peruse. Juneau is often the start and/or end of the small ship cruises. If you're hankering for a "flightseeing" floatplane excursion above the glaciers and mountains, Juneau is the place to do it because there's a better chance of clear weather (they're offered in Ketchikan too, but it rains a heck of a lot there).
Sitka. Its main claim to fame was serving as Russian America's capital, and a thriving place Sitka was during that period. Then in 1867 the U.S. bought Alaska and the deal took place at Castle Hill, an historic site with remnants of fortifications and Baranof's Castle was located. St. Michael's Russian Orthodox Church is the most impressive holdover and an active center for church services. The original 19th century structure burned in 1966, and then rebuilt in pretty much its original style. If open to the public is well worth visiting for its religious artifacts. Just outside town, Sitka National Historical Park displays a collection of totems set in an attractive 100-acre heavily-wooded forest and the Haida and Tlingit peoples' cultural heritage is on display here.
Skagway. The most northerly of the Panhandle towns, tiny Skagway was once the only coastal point to access the land routes to the Klondike region of northwestern Canada's Yukon Territory — on foot over the Chilkoot Pass and White Pass or via the White Pass and Yukon Route, a narrow-gauge railroad that stretched all the way to Whitehorse, capital of the Yukon Territory. After gold was discovered in 1898 the railway line became the principal access route to the Klondike. The remaining portion of the line is Skagway's main attraction for cruise passengers offering a highly scenic mountain and lake ride. The train also serves small groups of hikers. Architecturally, the town retains much of its gold rush atmosphere in spite of the hordes of milling tourists.
Alaska's Fjords, Straits, Bays & Arms
Icy Strait. Located due west of Juneau and south of the entrance to Glacier Bay, the waterway teems with sea life because of its rich nutrients, orcas and humpback whales that come north in the spring to feed here, and coinciding with the start of the Alaska cruise season. Sport fishing is also a draw, and it is not uncommon to see bears and deer on the nearby shorelines. Small ships have the advantage of being much less of a danger to sea life, while their relaxed schedules permit extended dawdles to perhaps take a position in the very midst of a pod of whales.
Misty Fjord. Designated as a National Monument, a trip along the narrow passages bracketed by sheer cliffs that soar straight up two to three thousand feet, and though unseen, drop down to 1,000 feet below sea level. At the start of the season, the peaks will have a heavy overlay of snow that as it melts creates cascading waterfalls where a close approach can wash the decks. Located in extreme Southeast Alaska in the immense Tongass State Forest, the nearest port is Ketchikan off to the west.
Tracy Arm.  Along with Endicott Arm, these two 30-mile-long fjords are located 45 miles south of Juneau in Tongass State Forest. Tracy Arm, the better known, is noted for the North and South Sawyer Glaciers that together cover nearly 20 per cent of the surface. In the summer, large and small chunks of ice break off and create a sea of floating ice that the small ships gingerly pass through to reach the face of the glacier and watch it calve. On shore, bears, wolves and harbor seals are often spotted, and if lucky, mountain goats may be staring down at you.
Glacier Bay.  The best known of all Alaska destinations is Glacier Bay, a vast national park with lots of wildlife, fjords and inlets, and no less that nine glaciers, both receding and advancing. The largest receding glacier is also the most famous, Margerie, where small ships stand off of to watch the calving ice collapse into the sea, while the Johns Hopkins Glacier is the longest advancing river of ice.
You can expect to see at least three-quarters of the most common wildlife — humpback whales that enter from Icy Strait, Steller sea lions. harbor seals, sea otters, harbor porpoise, brown and black bears, and if your National Parks guide spots them, mountain goats and moose. Look up to the west when approaching Margerie Glacier and spot the eternally snow-capped Mount Fairweather, at 15,300 feet, taller than any mountain in the Lower 48 states.
Alaska Small Ship Excursions
Generally, small ship Alaska cruises are more active, sporty and hands-on than their larger counterparts. Directly from a small ship, you board a Zodiac accompanied by a naturalist to look for wildlife at close range, or step ashore and take a hike in the temperate rain forest or form a fleet of a dozen kayaks to explore a nearby bay. Excursion options may also include bicycle and rafting tours.
Small ships spending the afternoon in Glacier Bay, after the big ships leave, often cruise up to multiple tongues of ice, while bald eagles, oyster catchers and blue heron soar above and wildlife comes down to the shore. National Park guides come aboard to supplement the ship's own naturalist staff.
The small ship fleet may call at towns and villages where big cruise ships cannot to see first-hand what remote native Alaskan island life is like or to experience Norwegian cultural traditions at Petersburg, a charming town where the fishing industry is still paramount and highly lucrative. Fishing trips can be arranged here and at other Panhandle towns.
Your small ship may call at ports where the big ships dock too — such as Ketchikan, Juneau and Skagway — though organized activities are kept as separate as they can from the milling hoards.
Ted's Favorite Small Ship Alaska Moments
Sailing into a fjord, one never knows what lies around the corner, and then you see a slim waterfall or maybe two, one cascading down the cliff face and the other in free fall, a glacier at the far end and another narrow passage forking off from the main channel.
The most serene times of day are early morning and at sunset when the ship is at anchor, and the solitude of the Alaskan wilderness can settle in around you. If I am in a kayak, I like resting the oars and taking in the stillness, sights and sounds of nature — a family of ducks serenely gliding along, dolphins cruising by, and startled fish erupting skyward. On clear evenings, stand at the ship's railing and watch the moon above reflected in the calm waters below. At times like these you don't want your expedition voyage to end.
Heidi's Favorite Small Ship Alaska Moments
My first small ship cruises more than 20 years ago were to Alaska and they got me hooked. One I took with my father, and I still remember the serenity of walking through Sitka's National Park, dwarfed by the cedar trees and totem poles, and smitten with the cool fresh air and simple but profound beauty of the pristine forest. Another day in Petersburg, we went on a fishing excursion with just four other passengers, on a trawler operated by an endearing couple who looked like Mr. and Mrs. Clause. They helped us catch crabs and then cooked them up for us right on board to eat in the tiny galley with melted butter and plastic cups of white wine. It may have been dreary and drizzly outside, but we were warm and happy clams that afternoon. Still one of my favorite cruise memories of all time.
Small Ship Lines That Serve Alaska
Abercrombie & Kent
Alaska Dream Cruises
Alaska Marine Highway (regular ferry routes on ships with cabin accommodations)
American Cruise Lines
Lindblad Expeditions
Silversea Expeditions
UnCruise Adventures
These lines range from operating a single ship to a small fleet, with the latter naturally offering many different itineraries and the possibility of returning for a second expedition cruise in another area and with a different thrust.
Read More About Cruising Alaska on a Small Ship
Alaskan Dream Cruises Adventure by Lynn & Cele Seldon
Alaska Cruise Adventures with UnCruise by Judi Cohen
Finding My Route to Alaska by Car, Ferry, Trains & Small Ship
Small Ships vs Big Ships in Alaska
Definitely an UnCruise Adventure: Safari Endeavour to Alaska is a Wonderful Small Ship Cruise 

Don't miss great articles, reviews, news & tips about small-ship cruising, subscribe to QuirkyCruise.com for monthly updates!  
This article is protected by copyright, no part may be reproduced by any process without written permission from the author. All Rights Reserved. QuirkyCruise.com.
Posted In: