AmaKristina on Rhine River.
REVIEWER
Sue Piergallini from the USA.
CRUISE LINE
SHIP
AmaKristina.
DESTINATION
Rhine River to Switzerland, France, Germany & Netherlands.
# OF NIGHTS
7.
DEPARTURE DATE & PORTS
December 2019/January 2020, from Basel, Switzerland.
OVERALL RATING
5 out of 5 stars (5=excellent, 4=very good, 3=good, 2=poor, 1=terrible)
-Food Rating: 5
-Cabin Rating: 5
-Service/Crew Rating: 5
-Itinerary Rating: 4
HAVE YOU BEEN ON A SMALL SHIP CRUISE BEFORE?
I've been on 4 small ship cruises.
REVIEW
AmaWaterways was first class all the way. We did the Romantic Rhine Cruise from Basel to Amsterdam. Everyday was a new stop with fantastic excursions and experiences. We went from large world-class cities to small French villages! Enjoyed wine tasting, beer tasting, and going to the top of the Swiss Alps! The river cruise boat was beautiful with outstanding wine (new ones every day) and amazing dinners with local cuisine. And, with going in late December there were no crowds and we were able to enjoy all the attractions to their fullest! A must do experience!

RELATED: Gene Sloan's article about the new double-wide AmaMagna.
RELATED: Getting Fit on an AMA Waterways river cruise in Europe.
RELATED: Anne Kalosh's Mekong River Adventure with AmaWaterways.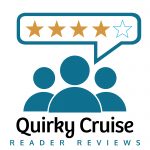 Contribute to our pool of honest reviews by real passengers. QuirkyCruise wants to hear about your latest small ship cruise for our Reader Reviews, a growing reservoir of opinions by small ship cruise lovers around the world. We don't edit or sugarcoat, we just present QuirkyCruise reader reviews straight from travelers to you.
Fill out a QuirkyCruise Reader Review FORM.
And here's an INDEX of ALL our Reader Reviews. Have a look at what fellow travelers have to say and see what floats your boat.
Don't miss a post, subscribe to QuirkyCruise.com for monthly updates & special offers!  
© This article is protected by copyright, no part may be reproduced by any process without written permission from the author. All Rights Reserved. QuirkyCruise.com.
Posted In: