Silver Cloud in Antarctica.
REVIEWER
Sue Bennett from New Zealand.
CRUISE LINE
SHIP
Silver Cloud.
DESTINATION
Antarctica and Falkland Islands.
# OF NIGHTS
15.
DEPARTURE DATE & PORTS
December 2019 from Ushuaia, Argentina.
OVERALL RATING
5 out of 5 stars (5=excellent, 4=very good, 3=good, 2=poor, 1=terrible)
-Food Rating: 5
-Cabin Rating: 5
-Service/Crew Rating: 5
-Itinerary Rating: 5
HAVE YOU BEEN ON A SMALL SHIP CRUISE BEFORE?
I've been on 1 small ship cruise.
REVIEW
Antarctica  is definitely a once in a lifetime trip. This was our first ever cruise, our expectations were well and truly exceeded. We were very happy that we chose the Silver Cloud. My husband had done a lot of research before booking — we wanted a trip that was going to give us the ultimate experience in Antarctica. The staff of Silver Cloud certainly achieved this. Everyone from the dining staff to our personal butler and room attendant were fantastic in looking after our every need. (My husband ordered 2 G&T's one night to our suite, not only did we get our Gins but the whole bottle was delivered).
But I have to say the expedition staff were the people who really made this trip for us. Being able to get out on the Zodiacs twice a day (this was one of the main reasons we chose Silverseas), was fantastic. But their jobs didn't end here, the expedition team gave lectures and each day we had a recap of the days activities. The team would also have lunch and dinners with the guests. The photo lab on the boat was a great extra to be able to use a computer to upload, etc photos. The entertainment team had plenty of activities arranged for the younger guests, from study sessions to team trivia (even adults were known to join in the trivia). The solo travelers were also looked after with get-togethers. At the end of the trip all guests received a thumb drive with the story and photos of the trip. We just loved our trip and are already looking froward to the next one.

RELATED:  Silversea Orders Expedition Vessels
RELATED: Creature Comforts aboard the Silver Cloud in Antarctica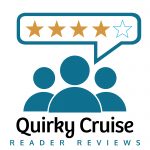 Contribute to our pool of honest reviews by real passengers. QuirkyCruise wants to hear about your latest small ship cruise for our Reader Reviews, a growing reservoir of opinions by small ship cruise lovers around the world. We don't edit or sugarcoat, we just present QuirkyCruise reader reviews straight from travelers to you.
Fill out a QuirkyCruise Reader Review FORM.
And here's an INDEX of ALL our Reader Reviews. Have a look at what fellow travelers have to say and see what floats your boat.
Don't miss a post, subscribe to QuirkyCruise.com for monthly updates & special offers!  
© This article is protected by copyright, no part may be reproduced by any process without written permission from the author. All Rights Reserved. QuirkyCruise.com.
Posted In: