Glen Tarsan in Scotland.
REVIEWER
Janine O'Loughlin from Australia.
CRUISE LINE
Majestic Line.
SHIP
Glen Tarsan.
DESTINATION
Oban to Inverness on the Caledonian Canal.
# OF NIGHTS
6.
DEPARTURE DATE & PORTS
April 2018, from Oban, Scotland.
OVERALL RATING
5 out of 5 stars (5=excellent, 4=very good, 3=good, 2=poor, 1=terrible)
-Food Rating: 5
-Cabin Rating: 4
-Service/Crew Rating: 5
-Itinerary Rating: 5
HAVE YOU BEEN ON A SMALL SHIP CRUISE BEFORE?
I've been on 1 small ship cruise.
REVIEW
We had a delightful trip on the Glen Tarsan. The crew were amazing — charming, helpful, efficient — and a jar of vegemite appeared for breakfast on the second day which made two Aussies feel pretty special.
The only reason the cabins only rate a 4 is that the bathroom was very small — however the beds were very comfortable and warm.  To be honest we spent all day sitting upstairs chatting, eating, drinking coffee and watching the world go by so a small cabin didn't matter at all.
The food was delicious and we loved sitting at the large table and getting to know out fellow travellers.
I will never forget waking up in the silence of Loch a Choire on our first morning with soft mist sitting on the hills and just the sound of waves lapping against the wee boat.
WE CAME A LONG, LONG WAY TO DO THIS CRUISE AND IT SURPASSED OUR EXPECTATIONS.
In fact we enjoyed our cruise so much that we are coming back to Scotland next year — this time to cruise around Skye and the Small Isles in one of the bigger boats — The Glen Etive.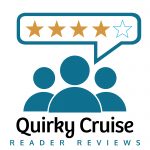 Contribute to our pool of honest reviews by real passengers. QuirkyCruise wants to hear about your latest small ship cruise for our Reader Reviews, a growing reservoir of opinions by small ship cruise lovers around the world. We don't edit or sugarcoat, we just present QuirkyCruise reader reviews straight from travelers to you.
Click here to fill out a QuirkyCruise Reader Review FORM.
And here's an INDEX of ALL our Reader Reviews. Have a look at what fellow travelers have to say and see what floats your boat.
Don't miss a post, subscribe to QuirkyCruise.com for monthly updates!  
© This article is protected by copyright, no part may be reproduced by any process without written permission from the author. All Rights Reserved. QuirkyCruise.com.
Posted In: