Le Champlain to Mexico.
REVIEWER
Michael Clay from England.
CRUISE LINE
Ponant.
SHIP
Le Champlain.
DESTINATION
Mexico.
# OF NIGHTS
16.
DEPARTURE DATE & PORTS
October 2019, from Boston.
OVERALL RATING
1 out of 5 stars (5=excellent, 4=very good, 3=good, 2=poor, 1=terrible)
-Food Rating: 0
-Cabin Rating: 3
-Service/Crew Rating: 3
-Itinerary Rating: 4
HAVE YOU BEEN ON A SMALL SHIP CRUISE BEFORE?
I've been on 20 small ship cruises.
REVIEW
In October my wife and I boarded Ponant Le Champlain, (180 passengers), at Boston USA for a 2 week cruise to Mexico. My description this cruise was straight from hell and relates to the "campylobacter" food poisoning I suffered. Food poisoning/upset stomachs is not necessarily unusual on some cruise ships but in this case I became seriously ill.
The food poisoning in my case can easily be directed to the "raw" foie gras that was served on top of beef as a main course. The Campylobacter bacteria was confirmed by testing on my immediate return home. In the UK this type of food poisoning, it is compulsory for the infection to be formerly reported to under the Health Protection Regulations.
Campylobacter bacteria can invade your body system and develop symptoms called "Acute motor axonal neuropathy" (AMAN)/Guillian Barre Syndrome. An illness caused by campylobacter bacteria that attacks the nerve ends of legs, arms and the ability to stand. On getting home my food poisoning symptoms got worse and I could no longer stand, walk or use my hands. I was admitted to hospital and after extensive tests over two weeks AMAN was diagnosed. We are now into March and I still have difficulty walking, standing and very limited use of my hands. It is possible/probable that I'll never walk properly again or have use of my hands. The hospital consultant said "if it had gone to the lungs it could have been fatal".
I made contact with Ponant by email and letters to head office (that had to be signed for on receipt) but Ponant have totally ignored my concerns and seem to have shut down any contact with me. Although I have no evidence of other guests being ill the serious effect on my body could not have been an isolated incident.
It seriously concerns me that this cruise line could have decimated other passengers on the cruise and what is more important they can easily carry on in the same manner.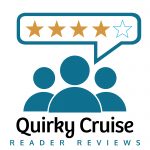 Contribute to our pool of honest reviews by real passengers. QuirkyCruise wants to hear about your latest small ship cruise for our Reader Reviews, a growing reservoir of opinions by small ship cruise lovers around the world. We don't edit or sugarcoat, we just present QuirkyCruise reader reviews straight from travelers to you.
Fill out a QuirkyCruise Reader Review FORM.
And here's an INDEX of ALL our Reader Reviews. Have a look at what fellow travelers have to say and see what floats your boat.
Don't miss a post, subscribe to QuirkyCruise.com for monthly updates & special offers!  
© This article is protected by copyright, no part may be reproduced by any process without written permission from the author. All Rights Reserved. QuirkyCruise.com.
Posted In: