Wilderness Discoverer in Alaska.
REVIEWER
H Schneider from the USA.
CRUISE LINE
SHIP
Wilderness Discoverer.
DESTINATION
Alaska Inside Passage.
# OF NIGHTS
7.
DEPARTURE DATE & PORTS
Aug 2019, from Sitka, Alaska.
OVERALL RATING
5 out of 5 stars (5=excellent, 4=very good, 3=good, 2=poor, 1=terrible)
-Food Rating: 5
-Cabin Rating: 4
-Service/Crew Rating: 5
-Itinerary Rating: 5
HAVE YOU BEEN ON A SMALL SHIP CRUISE BEFORE?
I've been on 1 small ship cruise.
REVIEW
Our UnCruise Family reunion/anniversary trip to Alaska was spectacular! The public spaces on the ship were very welcoming and ample, with a surprisingly complete library on Alaska & wildlife, along with other reading materials.
Attention to details is what made this cruise—from the hot chocolate with peppermint schnapps waiting for the snorkelers as they got out of the frigid waters into the skiff, to having a national parks ranger have a presentation then spend the nite on board being assessable to all kinds of interesting discussions, to the slide show the last night with photos of all of us from the previous week—a gift to each of us. The activities were as mild as touring around on a skiff with a knowledgable funny guide to as intense as a 6 hour kayak trip—lunch & jokes included. You choose—2 activities a day were offered and although we chose different activities each of us felt our choice was the best! Wildlife viewing or searching was the common denominator and we weren't disappointed!
I haven't even mentioned the delicious meals and fun drinks served with smiles by a collection of dear & enthused staff that know how to connect! The cruise ended way too quickly with an amazing collection of  memories.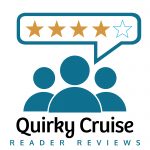 Contribute to our pool of honest reviews by real passengers. QuirkyCruise wants to hear about your latest small ship cruise for our Reader Reviews, a growing reservoir of opinions by small ship cruise lovers around the world. We don't edit or sugarcoat, we just present QuirkyCruise reader reviews straight from travelers to you.
Click here to fill out a QuirkyCruise Reader Review FORM.
And here's an INDEX of ALL our Reader Reviews. Have a look at what fellow travelers have to say and see what floats your boat.
Don't miss a post, subscribe to QuirkyCruise.com for monthly updates!  
© This article is protected by copyright, no part may be reproduced by any process without written permission from the author. All Rights Reserved. QuirkyCruise.com.
Posted In: