Articles About Victory Cruise Lines
Submit Your Own Review
Snapshot
Victory Cruise Lines, based in Miami, Florida, began operating with a short first season in 2016 along the St. Lawrence River and in the Great Lakes. Using the American-built coastal ship CAPE MAY LIGHT (2001), she had operated for Delta Queen Coastal Cruises until that company went bankrupt. After a layup period and work for other firms, she joined the new line in 2016 as VICTORY I. The second unit, built as the US-flag CAPE COD LIGHT, most recently sailed as the SEA DISCOVERER until chartered by this line in 2017. Following a refit in Europe, it appeared in summer 2018 as VICTORY II and focused on New England, Eastern Canada, St. Lawrence Valley, Great Lakes and then Cuba. Beginning in 2019, both ships have been purchased by American Queen Steamboat Company, and the pair will continue to operate as a brand, retaining the name Victory Cruise Lines.
N.B. In April, the line announced a 183-day charter of a small 200-passenger ship to be built for Miami-based SunStone Ships. To be named OCEAN VICTORY and operate with stabilizers , the ship will make 7-10 day cruises in Alaska for Victory C.L. from May to September 2021. Itinerary details will be forthcoming. Another operator will charter the vessel for the rest of the year.
Ship, Year Delivered & Passengers
VICTORY I was built in 2001 and refitted for the present operators in 2016, 202 passengers; VICTORY II was completed in 2004 and refitted in 2017/2018, 202 passengers. The ships, American-built and now under the Bahamian flag, will be brought back to the U.S. flag, a bureaucratic process that may take up to two years.
Passenger Decks
Five passenger decks, and an elevator serving the four cabin and public room decks, but not the top sun deck.
Passenger Profile
Americans, Canadians, and a few Europeans mainly 50 and up. Many passengers will be veterans of American Queen Steamboat Company who will have broader horizons to pursue.
Price
$$ to $$$ – Pricey
Itineraries
Cruises began in May 2019 and operate through October on two ten-day itineraries that focus on the St. Lawrence River and the Great Lakes. VICTORY I will sail between Montreal and Detroit calling at Quebec City, thence along the St. Lawrence Seaway and into Lake Ontario for Kingston and Toronto, via the Welland Canal to Port Colborne to access Niagara Falls and onto Cleveland and Detroit. VICTORY II cruises between Toronto and Chicago via the Welland Canal into Lake Erie to Port Colborne for Niagara Falls, onto Cleveland and into Lake Huron with a stop at Little Current, north to Sault Sainte Marie, Soo Locks, Mackinac Island and finally south to Chicago. N.B. At the end of the Great Lakes' season, in October 2019 and 2020, cruises for late fall into spring have yet to be announced. –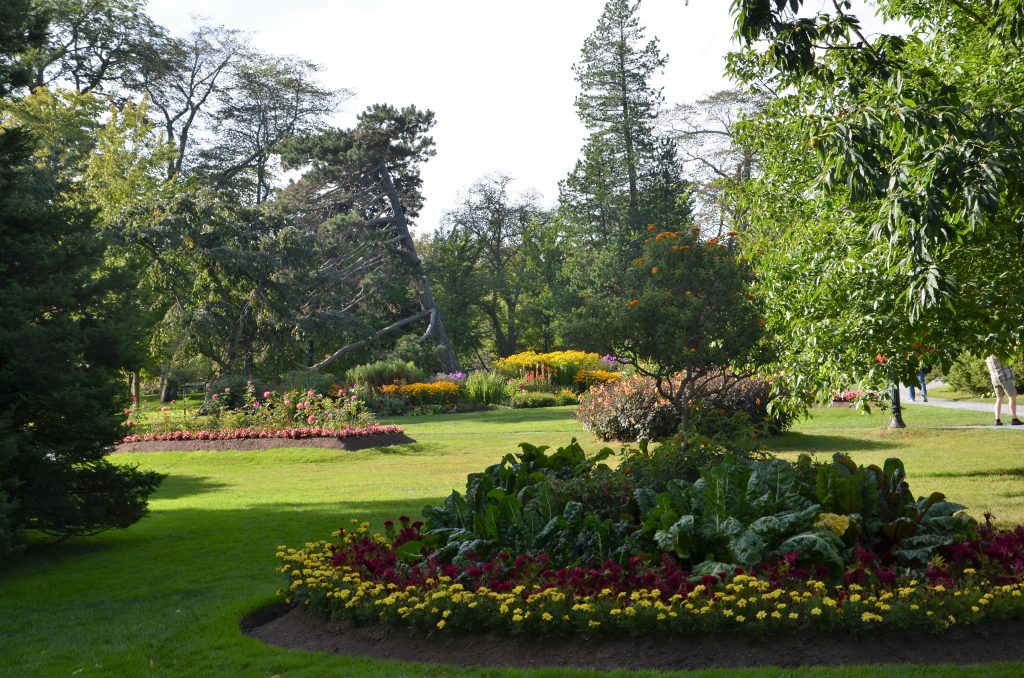 Public Gardens, Halifax, Nova Scotia, a late fall and early spring port call. * Photo: Ted Scull
Included Features
One complimentary shore excursion is offered in every port, all soft drinks, beer, house wine and liquor throughout the day, plus a cocktail party every evening before dinner, and complimentary basic WiFi (not Cuba cruises where connections are spotty). Tips are not included; the recommended amounts are $15 per person per day for the ship's crew, and ashore, $5pp for guides and $2 for the bus driver.
Why Go?
The key is the ease of cruising on a small ship to attractive ports, large and small, initially in the US and Canada. Few ships  cruise the Great Lakes, so it's less charted territory for many aficionados of exploring inland waters – lakes, rivers and canals.
When to Go?
The initial cruises operate from May to October, the best months for touring the Great Lakes region and St. Lawrence River.
Cabins
All cabins are doubles with twin or queen-size beds, picture windows and measurements of 146 to 185 square feet, and a single owner's suite at 335 sq. ft. Single travelers normally pay 160% for single occupancy of a double cabin.
Public Rooms
Main lounge connects to the tavern, while the dining room is located aft with wraparound windows at the stern. Additional dining takes place at the outdoor grill. The sun deck provides an aft-facing observation lounge, and a wraparound promenade has a narrow path for constitutional walkers.
Dining
It's open seating for all meals, with the best table twos and fours next to the view windows, and especially along the wraparound stern section. An outdoor grill offers "hot rock" dinners by reservation and at no extra coast.
Activities & Entertainment
Shore excursions use audio headsets, and lecturers travel with the ship. Additional information as it becomes known.
Special Notes
A doctor is carried on all cruises, operating out of an infirmary.
Along the Same Lines
Pearl Seas Cruises and Blount Small Ship Cruises operate some similar itineraries, while Croisieres Saint Jacques and St. Lawrence Cruise Lines exclusively cruise the St. Lawrence River.
Contact
Victory Cruise Lines, 222 Pearl Street, New Albany, IN 47150. 888-749-5280. www.victorycruiselines.com.
— TWS
© This article is protected by copyright, no part may be reproduced by any process without written permission from the author. All Rights Reserved. QuirkyCruise.com.
Please follow and like us:
Posted In: