Pearl Seas Cruises is a newish (2014) subsidiary of the firm that owns American Cruise Lines with its large and ever-growing fleet of coastal and river ships. Its one ship, the 210-passenger PEARL MIST, shares many of the characteristics of the U.S. flag fleet yet it is an ocean-going vessel, registered in the Marshall Islands and operates with a largely non-American crew. With this new ship, the firm's cruise itineraries have expanded to New England, Eastern Seaboard, Eastern Canada, and the Great Lakes. Circumnavigations of Cuba (cancelled due to US government orders). The ship is stabilized.
Ship, Year Delivered & Passengers
PEARL MIST (built 2014 & 210 passengers)
Passenger Profile
Mostly Americans and some Canadians, largely 50+ and many will be loyal American Cruise Lines' passengers. Unlike the US-flag ACL, this ship is registered in the Marshall Islands and operates with a largely foreign national crew.
Passenger Decks
6; an elevator connects all decks.
Price
$$$  Very Pricey
Included Features
Internet/WiFi; a daily cocktail hour before dinner, wine with lunch and dinner, open bar with hors d'oeuvres in the evening.
Itineraries
➢The spring 2020, the PEARL MIST will makes its way up the Eastern Seaboard on a 10-day itinerary embarking at Charleston, then calling at Norfolk, Baltimore, Philadelphia, Newport, Portland, Bar Harbor and Halifax.
➢After that the ship heads to the St. Lawrence River and Seaway with port calls such as in the Saguenay Fjord, Quebec Montreal and Toronto and into the Great Lakes.
➢May and September, 11 and 15-day cruises sees the ship operating between Portland, Maine and Toronto calling at Canadian Maritimes ports, plying the St. Lawrence River (Quebec City & Montreal), St. Lawrence Seaway and into Lake Ontario for Toronto. Additional 7-day spring and fall cruises from Portland visit three ports in Maine and three ports in New Brunswick.
➢11-day cruises, June to September, sail between Toronto and Chicago passing through four Great Lakes and Georgian Bay and stopping at Mackinac Island and Sault Ste. Marie, and shorter 7-day itineraries operate in August between Toronto and Chicago.
➢Leaving the Great Lakes in September, the ship takes advantage of the fall foliage season in Canadian Maritimes and New England with 10- and 14-day trips between Quebec City and Boston.
➢ In October, at the end of the Canada season, the ship heads south along the Eastern Seaboard (a reverse of the northbound itinerary. q.v above).
N.B. The PEAL MIST will then makes its way to a series of weekly 7-night cruises operating between December 1, 2020 and February 2, 2021 that feature the Panama Canal. Alternate cruises will begin in Cartagena, a port in Colombia and once the capital of the Spanish Empire in America then proceed to visit the Kuna people in the San Blas Islands and pause at Colon at the entrance to the Panama Canal. The passage includes several sets of locks, often filled with impressive container ships. a crossing of Gatun Lake and lovely tropical landscape either side. Once in the Pacific Ocean, there is a day call in at the beautiful Las Perlas Archipelago before returning to Balboa for a final visit to nearby Panama City, a modern metropolis peppered with French and Spanish colonial architecture. The cruise ends here, and the next one embarks for the itinerary in reverse.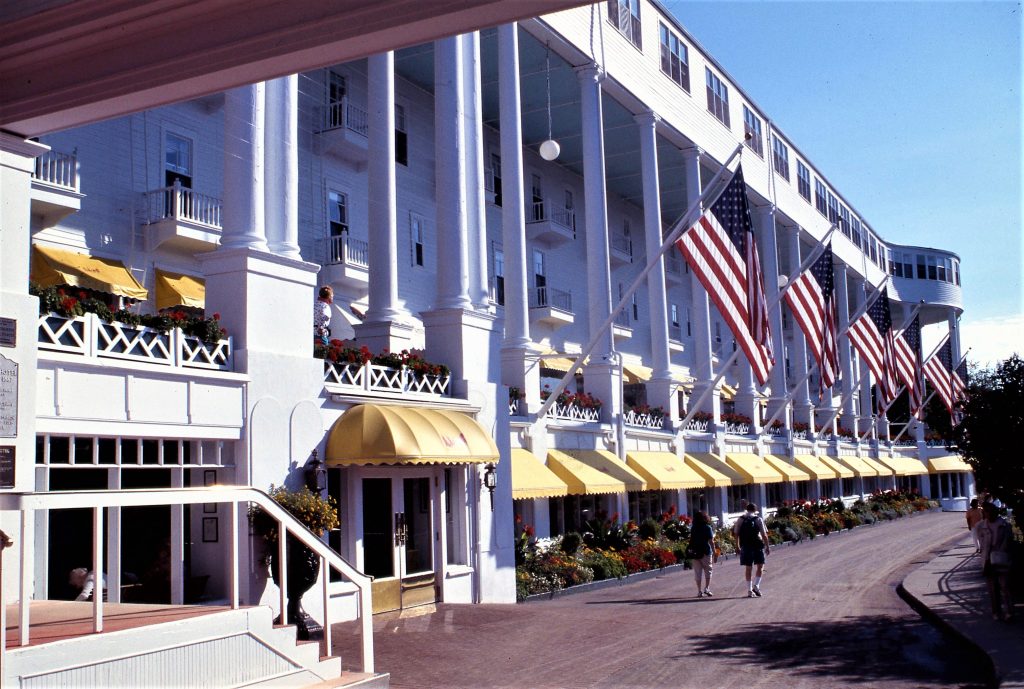 Grand Hotel, Mackinac Island, Michigan. * Photo: Ted Scull
Why Go?
The PEARL MIST is the first ship for some time to make regular multi-year cruises in the Great Lakes, and sail the entire length of the St. Lawrence River. While other ships cruise Eastern Canada and New England, the PEARL MIST is the most comfortable truly small ship to do so, and she is a major step-down in size compared to the Caribbean mega-ships.
When to Go?
The PEARL MIST cruises in different regions at the best times to visit.
Cabins
All accommodations, arranged over four of six decks, are outside with balconies and measure a roomy 302 to 580 square feet, and come with flat-screen TVs, DVD players and free wireless Internet. 12 cabins are balconied singles, positioned on all four cabin decks. The single rates, for example, are priced about 45% higher than the lowest double occupancy rate for a 7-night cruise and drop down to about 10% higher at the highest double-occupancy suite rate.
Public Rooms
The two largest lounges are the Atlantic and Pacific lounges facing forward and located below and above the navigating bridge. Unlike the sister-company ACL ships, a single lounge cannot comfortably accommodate all passengers at one time for enrichment lectures. Three smaller midships lounges with balconies are quiet retreats for games and reading, with one housing a library (films to borrow). A Lido Lounge opens onto an aft deck.
Dining
As with all American Cruise Lines' coastal ships, the dining room is aft on the lowest deck above the engine room, but noise is negligible. Seating is open at shared tables with breakfast a buffet as well as menu items; and lunch and dinner are served. Food is very good American fare with regional dishes such as lobster in Maine and crab further south. Passengers are asked to choose their lunch and dinner entrees at breakfast, to help the galley prepare the number of selections in advance. However, one can still change one's mind later. Conviviality rather than a quiet table for two is the thrust. A complimentary cocktail hour precedes dinner. Dress is always casual, but never sloppy with these passengers.
Activities & Entertainment
Cruises carry a guest speaker who may give a talk when the ship is on the move or after dinner. Local knowledge experts come aboard in some ports. Shore excursions are at an extra charge. There is a small sym and spa treatments.
Special Notes
While Pearl Seas is presently a one-ship operation, it is very much linked in style and execution to American Cruise Lines' smaller version coastal fleet and the river ships on the Mississippi River system, and Columbia and Snake in the Pacific Northwest.
Along the Same Lines
Blount Small Ship Adventures also operate similar itineraries, with fewer amenities and at a lower cost along the U.S. East Coast and the St. Lawrence River and on the Great Lakes. More upmarket Victory Cruise Lines operates two small ships along the St. Lawrence River and on the Great Lakes.
Contact
Pearl Seas Cruises, 741 Boston Post Road, Suite 250, Guilford, CT 06437;  www.pearlseascruises.com; 800-981-9146.
— TWS
© This article is protected by copyright, no part may be reproduced by any process without written permission from the author. All Rights Reserved. QuirkyCruise.com.
Posted In: