Now Hear This! The Royal Mail Ship service from South Africa to the remote South Atlantic island of St. Helena  was officially withdrawn in early 2018 as a replacement air service had been approved. The last sailing from Cape Town was January 24, 2018, calling at St. Helena and Ascension then returning to St. Helena and Cape Town, arriving there on February 11, 2018. Then it's finished with engines. The mail ship had been sold  (April 2018) as an accommodation ships for soldiers fighting piracy in the Indian Ocean. Shortly after that brief period, the ship was resold and is now in England. Future plans for the ship will be revealed for aficionados who follow the ship.  The text below is now one for the history books. You can read what you missed. I am sure glad I didn't. Ted Scull
Snapshot
The Royal Mail Ship ST. HELENA is the very last in a long line of passenger, mail and cargo ships that connected the mother country to her dependents; in this case the dependency is the remote and beautiful South Atlantic island of St. Helena. An airport, nearing completion, will put the island residents within five hours of Johannesburg instead of five days to and from Cape Town, and apart from the convenience for the island's population, it is hoped that foreign visitors will come in larger numbers for a holiday stay. St. Helena's remoteness was, for some, its principal attraction, coupled with a true liner voyage albeit rather smaller than the QUEEN MARY 2, the only other true ocean liner afloat.
Ship, Year Delivered & Passengers: ST. HELENA (built 1990 & 156 passengers)
Passenger Profile: The local population is referred to as Saints so they may be of any age, while the generally older visitors hail from South Africa, Great Britain (as the island is a dependency), other Europeans and some Americans. The RMS, as she is affectionately known, also carries passengers' pets.
Passenger Decks: 4 decks with an elevator serving three of the four.
Price: $ – $$  Moderate to Expensive
Included features: By booking a package, included features would the sea voyage, transfers, hotel accommodation and some sightseeing on St. Helena and perhaps Ascension (a possible port of call).
Itineraries: The most normal route is embarkation at Cape Town, then a five nights' voyage to St. Helena where most visitors disembark for six days while the RMS unloads cargo and sails two nights north to Ascension where mostly Saints who work overseas disembark or embark. The ship then returns to St. Helena, finishes whatever cargo handling there may be and re-embarks passengers who have spent almost  a week on the island for Cape Town, again a five-night sail. Very occasionally, the RMS also called at Tristan da Cunha, an even more remote British island dependency, inhabited by less that 300 people of British stock, and located deep in the South Atlantic closer to South Africa than to South America. South African lobster boats provide the only passenger access from January 2018.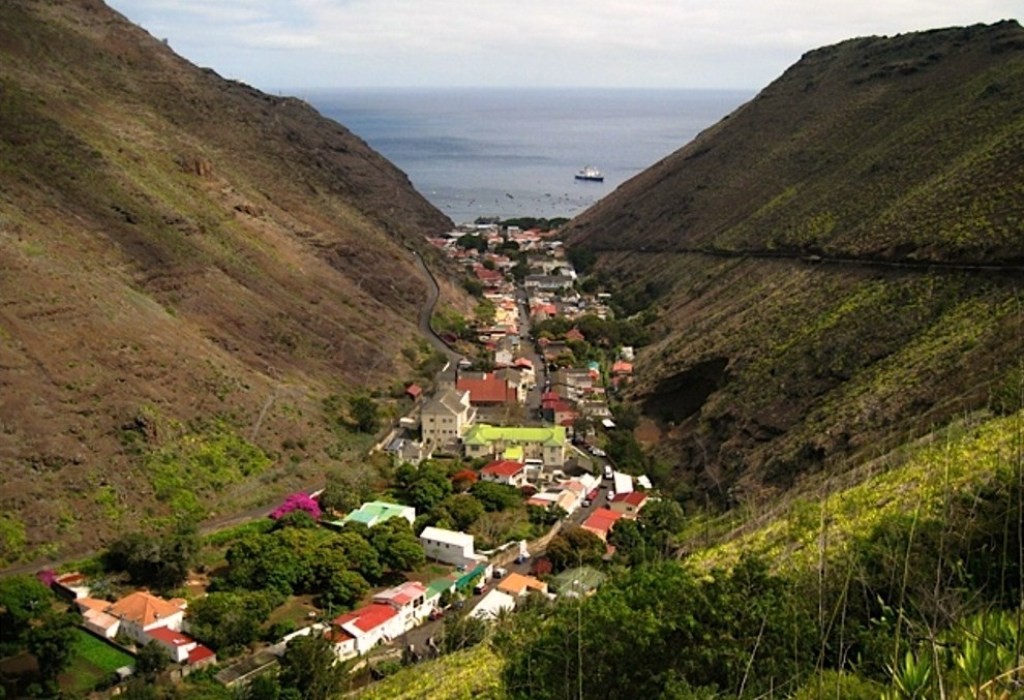 The classic view over Jamestown to the tiny speck that is the RMS St. Helena. * Photo: Bruce HeardWhy Go? The RMS ST. HELENA and the ship's namesake island provide one of the most unusual travel experiences imaginable. You travel, not on a cruise ship, but aboard a pocket cargo-liner, with local islanders and a small group of lucky visitors who will then enjoy a remote island stay. Some book into one of several small hotels, bed and breakfasts (some with half or full board), and self-catered accommodations in Jamestown or in the countryside. The sights are Jamestown, a charming pastel-colored 19th-century Georgian town, its main street serving as the island's social center and offering a couple of restaurants; Longwood, Napoleon's exile home and gardens, and official French property; the 1791-built Plantation House, home to the island's governor and a nearly 200-year-old Seychellois tortoise named Jonathan; lovely island drives on mostly one-lane roads with passing places; wonderful hikes, and deep sea fishing. The island operates a charabanc, a pre-WWII open-top tour bus. You can drive down to the shore, but the volcanic island has very little sand at its edge, except for a small stony beach at Sandy Bay. N.B. The week that my wife and I spent on the island could have easily lasted two.
When to Go? The ship offers regular voyages now until September 2016.The island's subtropical climate is peaceful and calm with no temperature extremes at either end of the scale. The voyage to and from Cape Town can be rough near to South Africa during the Southern Hemisphere winters.
Cabins: Most cabins are outside and of small to moderate size with two lower beds; two lowers and an upper; two lowers and two uppers; or just one upper and one lower. These have private shower and toilet. Economy accommodations are mostly for four, though some are two berths, and without windows or portholes and shared facilities in the corridor.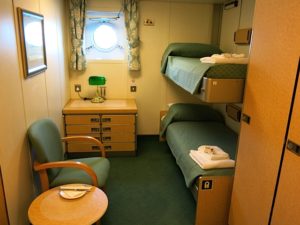 An outside upper & lower berth cabin. * Photo: Bruce Heard
Public Rooms: The forward observation lounge has a bar, and as does the aft Sun Lounge that opens onto the rear deck where there are deck games and a pool. WiFi is now available.
Dining: The restaurant operates with a main and late seating, and the top officers and purser host tables at dinner. The food is British and South African fare with most of the fresh produce brought aboard in Cape Town. Highlights will be lunchtime curries, evening roasts and fish. A light buffet breakfast and lunch are served daily in the Sun Lounge.
Activities & Entertainment: The ship operates like a traditional liner with deck games such as shuffleboard and skittles, even cricket!, and after dinner, films, bingo, quizzes, and frog races. The last named involve flat wooden "frogs" tethered to a spring line that you tug at to drag the frog across the deck. Pull too fast and the frog flips over; pull too slowly and you are sure to lose.
Special Notes: The cargo handled will be everything the island needs from fresh and frozen food stuffs to building materials, the Royal Mail, including items that the Saints have ordered on line, medical equipment and drugs, vehicles, possibly live farm animals, and perhaps a shipment of St. Helena stamps, one of the island's only sources of revenue. The loading whether by container or on pallets is worth watching.
Along the Same Lines: Some aspects parallel of C.P.T.M.'s ARANUI 5, where the ship also provides a life line to an island chain but it's a round voyage with just daytime calls and no island stopover. Most of the accommodations are plusher than the RMS.
Contact: Andrew Weir Shipping (SA) Ltd.,Thibault Square, Foreshore, Cape Town, 8001, South Africa;  rms-st-helena.com, +27 21 425 1165
Special Note: Captain Rodney, master of the RMS St. Helena, died whilst on leave in early January 2017. He joined his ship as a cadet in August 1980 and rose to captain in August 2000, the first St. Helenian to assume this role. He was hugely popular with both crew and passengers, and he will be missed. Adam Smith, also a Saint, is now captain.
— TWS
Posted In: