Angkor Pandaw in Vietnam
REVIEWER
Glenice & Ian Warner from Australia.
CRUISE LINE
SHIP
Angkor Pandaw.
DESTINATION
Red River, Vietnam.
# OF NIGHTS
10.
DEPARTURE DATE & PORTS
May 2018, from Halong Bay, Vietnam.
OVERALL RATING
5 out of 5 stars (5=excellent, 4=very good, 3=good, 2=poor, 1=terrible)
-Food Rating: 5
-Cabin Rating: 5
-Service/Crew Rating: 5
-Itinerary Rating: 5
REVIEW
We were greeted on board by a fellow passenger with, 'Oh, you're the virgin Australian Pandaw couple. You're in for a treat!'  We sniggered at the first part of the introduction, but were very soon to find out that the latter part was absolutely true.
Care of the passengers was paramount on this gorgeous teak and brass ship. It began each day with coffee and tea for the early risers (but I'll have to take their word for that!) and continued throughout the day with the immaculate care of our cabins, to 'welcome home' drinks after each excursion and even, the crooning of local love songs if there was a gap between the end of evening briefings and the start of dinner!  (To the less forgiving amongst us, this was the only time when the quality of service could dip below superb!)
Vietnamese cuisine is delicious at any time but was especially so on our cruise — the quality, the variety, the freshness and the presentation. But, there was plenty of choice, too, for those who preferred more Western-style fare. We never ceased to be amazed at the storm the chefs could whip up on board…and the weather whipped up a few of those too but always at night, so we didn't miss one excursion and it cleared the air. The weather was unseasonably, 'hot, damned hot,' but air-conditioning on board and Dang's fantastic evening cocktails, dulled the sting of it!
We thoroughly enjoyed the company of the passengers on board (mainly from the UK and Australia with two lovely, younger girls from the US) and interacting with the locals, off board.  This was the jewel in the crown for us. We would never have been able to visit so many, varied villages and iconic sites had we not taken the river cruise — 653 kilometers along nine different rivers! Perhaps it was because these were excursions to places that are off the beaten tourist track, that we were made so welcome by the locals, but I suspect it is also because the Vietnamese are one of the friendliest people on earth!  They often asked us to have a photograph with them.
We visited an amazing variety of villages, specialising in an eclectic range of arts and crafts — from bonsai tree growing to green bean cake making; traditional knife-smithing  to wooden furniture carving;  hand-painted ceramics to conical hat-making and the utterly unique, water puppetry.  We even visited a family whose house has been home to seventeen generations of their clan!  All of this was made all the more enjoyable by the exceptional quality of our guides, Duoc and Vu.  They not only educated us on the history and geography of Vietnam and the areas we visited but entertained us with many an amusing tale of growing-up, Vietnamese.  The three most important things a young man must do are: buy a buffalo; build a house; find a wife and in that order!
The river-cruising itself was both enjoyable and revealing. Passing through the variety of areas from the industrial to the agricultural, you gain a great overview of life and work in Vietnam and its impetus towards a developing country. Then there's the incredible array of river traffic — from the tiny, indigenous basket boats, propelled by foot, to the myriad sand-movers that chug along just centimeters above the water line — all so ready to share a wave and a huge smile as they go by. Halong Bay is singularly spectacular, but on our cruise, made even more memorable by the visit to a floating house and fish farm, and a sunset swim and cocktails at Three Peach Island. (There seemed to be no end to the talents of our crew. While we swam they set up a barbecue and karaoke and Poly, our most thorough and personable Purser, became the 'wedding singer' extraordinaire!)
Our fellow passenger's initial greeting was right; we were in for a treat. This was the most amazing immersion in Vietnamese history, culture, cuisine and lifestyle. So many of the passengers had completed, not one but four and even more, Pandaw Cruises; this will definitely not be our last!
➢➢For more on this cruise, read QC's 12 Reasons to Take a Red River Cruise in Vietnam with Pandaw.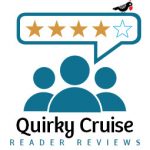 Contribute to our pool of honest reviews by real passengers. QuirkyCruise wants to hear about your latest small ship cruise for our Reader Reviews, a growing reservoir of opinions by small ship cruise lovers around the world. We don't edit or sugarcoat, we just present QuirkyCruise reader reviews straight from travelers to you.
Click here to fill out a QuirkyCruise Reader Review FORM.
And here's an INDEX of ALL our Reader Reviews. Have a look at what fellow travelers have to say and see what floats your boat.
Don't miss a post, subscribe to QuirkyCruise.com for monthly updates! 
© This article is protected by copyright, no part may be reproduced by any process without written permission from the author. All Rights Reserved. QuirkyCruise.com.
Posted In: