Chobe Princess in Africa.
REVIEWER
Chris & Peter Russell from the UK.
CRUISE LINE
SHIP
Chobe Princess.
DESTINATION
Along the Chobe River.
# OF NIGHTS
3.
DEPARTURE DATE & PORTS
June 2019, from Kasane, Namibia.
OVERALL RATING
5 out of 5 stars (5=excellent, 4=very good, 3=good, 2=poor, 1=terrible)
-Food Rating: 5
-Cabin Rating: 5
-Service/Crew Rating: 5
-Itinerary Rating: 5
HAVE YOU BEEN ON A SMALL SHIP CRUISE BEFORE?
I've been on 1 small ship cruise.
REVIEW
This is a small boat cruise like no other.  There are 3 Princesses and 1 Queen, all are converted houseboats and no expense nor luxury seems to have been excluded.  There are 2 Princesses with 4 bedrooms and 1 Princess with 5 bedrooms whilst the Queen is larger with 14 suites all with outer decks. We travelled on the 5-bedroom Princess and were lucky enough to have the suite on the top deck which opened directly onto the viewing deck where it had its own table and chairs outside. This was a larger suite than the others. The food was plentiful and delicious with individual tastes catered for.  There was ample time to relax and chat to fellow passengers, swapping stories and experiences.  The cruise included:
Accommodation, all meals, soft drinks, mineral water, coffee, tea, and local beer & wine
Water-based game viewing and bird watching on tender boats
A land-based cultural tour of a local village
Tiger & bream fishing in season (tiger fishing is strictly catch and release)
Road transfers to and from Kasane Airport and Kasane Immigration Office located on the Botswana side of the Botswana side of the Chobe river
Boat transfers between Kasane Immigration Office in Botswana and Namibia Immigration Office
The cultural village visit was very interesting with local artifacts for sale at the end of the dancing demonstration. My husband went out early on a fishing trip and caught a tiger fish which excited him greatly. I chose instead to relax on the boat as it cruised slowly along the Chobe. The game cruises were an early start, leaving at 6 am sharp, returning for breakfast at 10 am.  There is also a photography tender boat as well as the standard tender. The photography tender boat has a limited number of seats but the added advantage is they all swivel through 360 degrees offering maximum viewing and photo opportunities. A much better experience than cricking your neck on a standard tender.
We cannot recommend this cruise highly enough. The Zambezi Queen is a larger vessel which does not travel as far but is more luxurious we understand. However, we have not travelled on the Queen.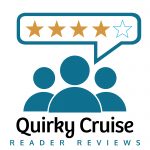 Contribute to our pool of honest reviews by real passengers. QuirkyCruise wants to hear about your latest small ship cruise for our Reader Reviews, a growing reservoir of opinions by small ship cruise lovers around the world. We don't edit or sugarcoat, we just present QuirkyCruise reader reviews straight from travelers to you.
Click here to fill out a QuirkyCruise Reader Review FORM.
And here's an INDEX of ALL our Reader Reviews. Have a look at what fellow travelers have to say and see what floats your boat.
Don't miss a post, subscribe to QuirkyCruise.com for monthly updates!  
© This article is protected by copyright, no part may be reproduced by any process without written permission from the author. All Rights Reserved. QuirkyCruise.com.
Posted In: