Legacy in Alaska.
REVIEWER
Lawrence from Canada.
CRUISE LINE
UnCruise.
SHIP
SS Legacy.
DESTINATION
Alaska Inside Passage from Juneau, Alaska.
# OF NIGHTS
7.
DEPARTURE DATE & PORTS
May 2019, from Juneau.
OVERALL RATING
5 out of 5 stars (5=excellent, 4=very good, 3=good, 2=poor, 1=terrible)
-Food Rating: 5
-Cabin Rating: 4
-Service/Crew Rating: 5
-Itinerary Rating: 5
HAVE YOU BEEN ON A SMALL SHIP CRUISE BEFORE?
I've been on 8 small ship cruise.
REVIEW
I enjoyed the UnCruise hospitality and the staff's spirit of adventure. Visiting Alaska on a small ship allowed us to go into more remote areas and see the bears, mountain goats and sea lions up-close. The captain would stop the ship or change course if he knew there were whales or other wildlife to see.
The food was outstanding. the chef just kept creating better and better local delicacies. I never had a problem getting my meals prepared gluten-free.
It would be nice to see more people from other countries on these cruises. Most of the passengers on our ship were American.
I'd do another UnCruise anytime!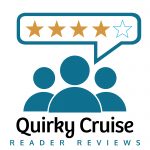 Contribute to our pool of honest reviews by real passengers. QuirkyCruise wants to hear about your latest small ship cruise for our Reader Reviews, a growing reservoir of opinions by small ship cruise lovers around the world. We don't edit or sugarcoat, we just present QuirkyCruise reader reviews straight from travelers to you.
Click here to fill out a QuirkyCruise Reader Review FORM.
And here's an INDEX of ALL our Reader Reviews. Have a look at what fellow travelers have to say and see what floats your boat.
Don't miss a post, subscribe to QuirkyCruise.com for monthly updates!  
© This article is protected by copyright, no part may be reproduced by any process without written permission from the author. All Rights Reserved. QuirkyCruise.com.
Posted In: