By Anne Kalosh.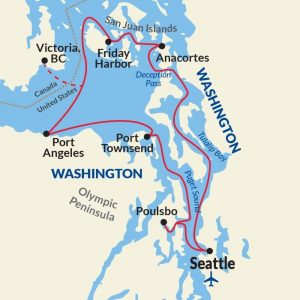 Two new American Cruise Lines Puget Sound itineraries in the Pacific Northwest will be offered in 2018. The five-day "Highlights of Puget Sound" and 11-day "Grand Puget Sound" will both sail round-trip from Seattle, Washington, and will triple the line's capacity in the region.
Already offered are an eight-day "Puget Sound & the San Juan Islands" itinerary and Alaska cruises.
Earlier, American Cruise Lines announced it would send its newest ship, the 175-passenger AMERICAN CONSTELLATION, to Alaska for the 2018 season, doubling its capacity there. The 175-passenger vessel will operate this pair of new Puget Sound routes.
The abbreviated "Highlights of the Puget Sound" stops at Anacortes, Friday Harbor and Port Townsend (all part of Washington state), while the "Grand Puget Sound" itinerary explores the San Juan Islands and includes additional ports like Olympia and Tacoma, Washington as well as Victoria, British Columbia.
Introduced this year, AMERICAN CONSTELLATION currently plies the East Coast of North America. It will head to the West Coast in time for several "Tulip Festival" cruises on Puget Sound before heading to Alaska for the summer. "Tulip Festival" cruises feature the Skagit Valley Tulip Festival in Anacortes in April when hundreds of acres of tulips, daffodils and cherry and apple trees are in bloom.
The new American Cruise Lines Puget Sound itineraries — "Highlights of Puget Sound" and "Grand Puget Sound" — will start in the fall. Each features historians, naturalists and local experts, and guided tours in every port. An exciting Deception Pass jet boat tour, kayaking in Friday Harbor, whale-watching and salmon tasting are among the highlights.
© This article is protected by copyright, no part may be reproduced by any process without written permission from the author. All Rights Reserved. QuirkyCruise.com.
Posted In: