Venice & its Lagoon.
By Dana Rebmann.
We just kept thinking, please don't rain. The sky was growling and ominous, growing darker and darker by the minute as we waited to board the vaporetto from St. Mark's Square to San Basilio Quay. We got lucky. When the clouds finally let loose with their full fury, my daughter and I were happily sitting in the lounge of CroisiEurope's Michelangelo.
With just four nights aboard, our cruise was relatively short. The Venice and its Lagoon itinerary differs from what most travelers would expect.
Focused solely on the islands of Venice, there is very little cruising.
When excursions aren't within comfortable walking distance, private water buses and taxis are used to navigate the city's famous canals.
Getting to Know the Islands of Venice
Excursions took us to Doge's Palace and a variety of other sought after spots. In awe, we watched glass making demonstrations on Murano Island. Colorful Burano reminded us to smile, when an unusual spring storm soaked us to the bone.
Free time gave us opportunity to roam and make sense of Venice's maze of canals and bridges. We quickly learned how to best escape the crowds, spot gondoliers in action, and find tasty gelato.
https://www.youtube.com/watch?v=aholKfr3iD8&feature=youtu.be
Life on Board
CroisiEuropes' 156-passenger Michelangelo was built in 1999. For the Venice and its Lagoon sailing, it serves primarily as a floating hotel with a primo location.
There are no cabins with balconies, but Upper Deck accommodations have large windows that let in Venice views along with welcome natural light; a small top area slides open for ventilation. Because of the layout of the room, the pair of twin beds cannot be separated.
Along with being home to the bar, the lounge serves as the meeting point for program updates, excursions and organized activities. On a couple evenings, a local musician came aboard to perform. On sunny days, the spacious sundeck is ideal for taking in the Venice skyline.
The primary language spoken is French, but announcements are also provided in English.
Ship Cuisine
CroisiEurope is known for serving French-focused cuisine, but a handful of Italian dishes including veal osso buco, chicken saltimboca, melon wrapped in prosciutto, and tartufo made appearances throughout our sailing.
Served with wine, lunch and dinner were typically 3- and 4-course meals, respectively. Menus are set, so American travelers might be disappointed by the lack of options.
There is more choice to be had during breakfast. Served buffet style, fresh fruit, cereal, yogurt, cheese, cold cuts, and pastries are always available. Cooked-to-order eggs are available by request, and all tables are topped with a generous basket of baguettes and croissants.
Passengers are assigned seating for the entire sailing based on the language they speak.
Day 1: Welcome Aboard in Venice
Guests are welcome to start boarding the Michelangelo earlier, but check-in is at 5pm. (Luggage can typically be dropped and stored earlier in the day.) Our first evening aboard was all about relaxing and meeting the crew and fellow travelers.
With 78 cabins, Michelangelo can carry a maximum of 154 passengers. My 20-year-old daughter and I were the only Americans aboard the early-season sailing — guests came predominantly from France, the U.K., and China.
We spent all but a couple hours of the entire itinerary docked about a 25-minute walk from St. Mark's Square.
https://www.youtube.com/watch?v=vYgYNJ6Duyg&feature=youtu.be
It would have been nice to spend more time cruising, however being somewhat permanently docked made exploring Venice easy.
A printed program provided a basic schedule for the days ahead, but actual daily starting times were provided the evening before during dinner. After announcements, specifics could also be reviewed on cabin televisions, and a monitor near reception.
Day 2: Doge's Palace & the Islands of Murano and Burano
Our first full day of activities kicked off at 8am when a majority of the ship's passengers boarded a private water bus to reach Doge's Palace. After arriving and being split into groups based on language, we moved relatively quickly to join the lines that had already formed for early entrance.
As sheets of rain began to fall, we considered ourselves lucky it was a covered area.
Once inside, the first glimpse of the palace courtyard, makes a lasting first impression. But on a stormy day, it takes little time to feel chilled to the bone.
"We go up, otherwise we freeze. Mamma Mia!" said our tour guide Laura.
For the next couple hours, we roamed through the lavish palace, learning its rich history as a residence, seat of the Venetian government, and prison.
The sound of thunder outside helped convince us to take our time, and not be in a rush to finish in order to get elsewhere.
After a bit of downtime on the ship to dry off and have lunch, we boarded another private boat for Murano and Burano. On a sunny day, the half-hour or so sailing to Murano provides postcard worthy views, but unfortunately the wind and rain seemed determined to stick with us for the day.
It couldn't dampen the impressive glass-blowing demonstration provided by one of the island's famous glass-making factories. Making good use of strategically covered walkways, we squeezed in some window shopping before heading off for Burano.
Our time in Burano was our own. Lace making demonstrations in shops throughout town drew people in, but with buildings every color of the rainbow, Burano is best enjoyed outside, even in the pouring rain.
Day 3: Venetian Traditions — Gondolas and Masks
What a difference a day makes. Under sunny morning skies, we set out on foot to the studio of a local mask maker. Skilled hands made the detailed process of creating Venice's famous, colorful masks look easy.
It was equally impressive to watch the construction of gondolas along the shores of the canals. Each one takes about six months from start to finish. Although all gondolas are the same size and shape, the decorative details are determined by the gondolier.
As we moved throughout Venice, our guide was fantastic about pointing out things we might have missed on our own. From the water cisterns still visible in most squares, to a floating produce market, and even a bar with great Venice skyline views.
A majority of our afternoon was spent aboard the Michelangelo on the Northern Lagoon. The return of the sun was reason to celebrate. Countless pleasure boats dotted the water with the snow-topped mountains of Italy, Austria, and Slovenia in the background.
Day 4: Padua
When our morning sailing on the Southern Lagoon was cancelled due to engine problems, we didn't hesitate to use the unexpected couple of hours to explore more of Venice.
It was easy to lose track of time wandering around a new neighborhood, not far from St. Mark's Square, but seemingly out of the reach of the crowds. We missed lunch aboard the ship, but happily enjoyed the pizza and gelato that took its place.
We were sure to be back for the afternoon bus trip to Padua. Once home to the legendary Galileo, it only took about an hour to reach Padua's welcoming square, Prato della Valle, where we met up with our guide.
Most of our hour with her was spent inside the Basilica of St. Anthony, considered by many to be the highlight of a visit to Padua. We also trekked through the historic old town and university before getting time to wander on our own. Entry tickets to view the frescos inside Scrovegni Chapel weren't available during our time in Padua, ensuring a return visit.
The bus was quiet as we made our way back to the ship. Many passengers used the opportunity to grab a power nap before the evening's farewell gala dinner.
There was plenty of packing to be done, but on a spring night the sun deck was the place to be, to take in those Venice views one last time.
New Venice Itinerary!
Starting in March 2020, the Michelangelo will begin a new 7-night itinerary that will operate year-round, with the occasional shorter cruise thrown into the mix. This wonderfully quirky route sails round-trip from Venice to Mantua along the Canal Bianco. It covers three regions: Veneto (where Venice is); Lombardy (to see the cities of Mantua and Cremona — Claudio Monteverdi's and Stradivarius's birthplace); and the region of Emilia-Romagna with its traditional cuisine (and its famous Parma ham and cheese!). Here's more info.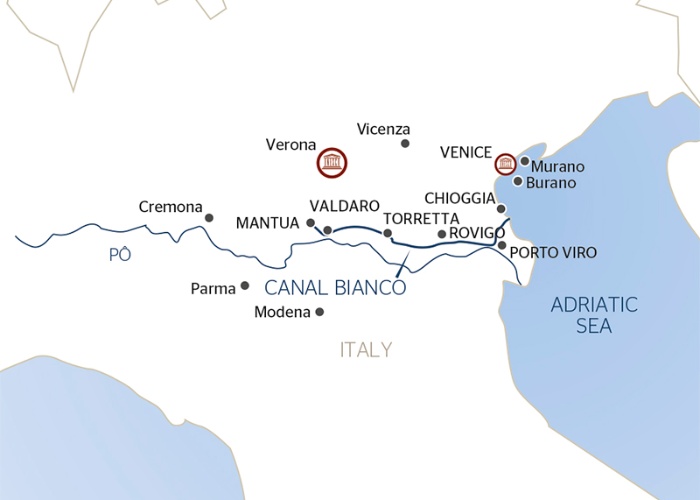 A Few More Facts ….
As one of CroisiEurope's older river boats, Michelangelo is known for having an especially dedicated and long-serving crew. Many have worked aboard Michelangelo for years.
Michelangelo initially cruised on Italy's Po River from Venice, but when navigating the Po became difficult due to silting a decade or so ago, the itinerary was changed to focus on the Venetian Lagoon.
The 4-night "Gems of Venice" cruise is all inclusive (meals, drinks, daily tours and taxes) and starts at $1,183 USD per person.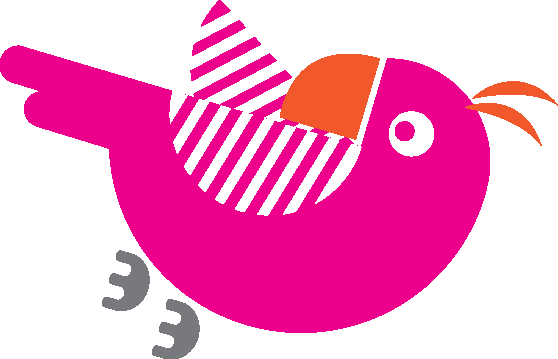 Don't miss a post, subscribe to QuirkyCruise.com for monthly updates!
© This article is protected by copyright, no part may be reproduced by any process without written permission from the author. All Rights Reserved. QuirkyCruise.com.
Posted In: