Snapshot: Tauck was founded in 1925 by Arthur Tauck, Sr. ,and the firm is still family-owned with Arthur Tauck Jr. as chairman and son-in- law Dan Mahar CEO. The vast enterprise operates in 70 countries, and for purposes of Quirky Cruise, we're highlighting their extensive choice of river and small ship cruises.
What's Included: Quite a lot. On small ship cruises, shore excursions planned for Tauck-only passengers; all gratuities to Tauck guides, ship staff, local guides and drivers, bar and restaurant beverages, port charges, luggage handling, transfers, hotel accommodations and airport transfers upon arrival and departure when noted.
River Cruises:
-Europe: River itineraries, offered from April through October, include waterways in Belgium and Holland; Rhine and Moselle; Main and Danube; Rhone and Soane, and the Seine. N.B. The Douro will be added in 2020 – see below. In fact, string together cruises and sail from Amsterdam to Budapest (15 days) and even continue on another week to the Danube to the Black Sea.
N.B. Selected cruises aboard the score of riverboats cater to families with activities ashore such as hiking and cycling, riding a cog railway and how about this, a scavenger hunt in the Louvre! On board, kids hear about the legends of the Lorelei and participate in cooking demonstrations and chocolate tasting. Riverboats EMERALD and SAPPHIRE will each have 14 cabins converted to handle a family of four. See the firm's website for the Tauck Bridges ebrochure for kids that describes the destinations and activities for a family vacation.
Two riverboats carrying just 130 passengers each entered service in 2016 – the GRACE in April and JOY in June, then in 2018 ESPRIT and TREASURES with 118 passengers.
Cruise tours include hotel stays and land extensions, such as adding London and Paris to a Seine River cruise, Switzerland to the Rhine, Prague and Nurnberg to a Danube itinerary and the French Riviera to the Rhone and Soane. The Jewel class ships take up to just 118 passengers with alternate dining in the Bistro and on the Sun Deck, weather permitting. The Inspiration class carries up to 130 with alternate dining at Arthur's and on the Sun Deck, again, weather permitting. Inclusive features include unlimited beverages include beer, wine, spirits; Internet (reception varies); use of bicycles; shore excursions and all gratuities to staff aboard and guides ashore.
-*Myanmar (Burma): 11-day cruise tours, scattered throughout the year, include a three-night cruise on the Ayeyarwady (Irrawaddy) River between Bagan and Mandalay aboard the 4-deck, 82-passenger BELMOND ROAD to Mandalay. *N.B. This cruise is currently not operating.
-China: 16- & 17-day cruise tours spend 3 days (downstream) or 4-days (upstream) aboard the 124-passenger YANGZI EXPLORER between Chongqing and Yichang, including passage through the Three Gorges. Tauck reserves 23 cabins, all with balconies, on sailings operating between April and October.
Small Ship Cruises: As Tauck uses a variety of ships, inclusive features vary.
-Europe: A wide variety, and most cruises last 7 days, a few 8 and 9, plus land extensions with hotels, sightseeing and transfers. Spain & Portugal, Aegean Sea, Venice, Croatia & Greece with Windstar ships sail and motor vessels; British Isles & Ireland; Norwegian Fjords, Iceland, Baltic & St. Petersburg; Italy, Sicily, Malta, Corsica & Monte Carlo with Ponant ships LE SOLEAL and LE PONANT. The new purpose-built 84-passenger riverboat ANDORINHA will arrive on Portugal Douro River in spring 2020. May to October itineraries will be 7-night cruise only, 7 nights for families, and 12 nights with 7-night cruise and 2-night hotel stays each in Madrid and Lisbon. Andorinha is a migratory sparrow that returns to Portugal every spring and occupies the same nest with the same mate year after year.
-Cuba: THESE CRUISES HAVE BEEN CANCELLED DUE TO A US GOVERNMENT ORDER FORBIDDING CRUISES TO CUBA. HOWEVER, LAND TOUR ARE AVAILABLE THOUGH TAUCK. 11-day Cuba cruise tours begin and end with flight from and back to Miami using the motor-sail ship LE PONANT (60 passengers) for a six-day cruise between Havana and Santiago de Cuba and calling as three intermediate south coast ports. Dates are December and January.
-Central America: An 11-day cruise-tour, January, February, and March, to Panama and Costa Rica spends 7 nights aboard the 148-passenger WIND STAR passing through the canal and calling at island and coastal ports between Colon, Panama and Puerto Caldera, Costa Rica.
-Galapagos: A 8-day cruise tour, March, April, June to August and December, combine a Peruvian tour including Lima, Cusco and Machu Picchu with a 4-night Galapagos cruise aboard the 90-passenger, 5-deck SANTA CRUZ II (Tauck passengers only). Cabins are all outside with twin or double beds. December is a family departure.
-Antarctica: 13-day Antarctica cruise tours, January and December 2017, include 2 nights in Buenos Aires and 10 nights aboard Ponant Cruises' LE SOLEAL or LE BOREAL (224-264 passengers). These 6-deck ships, built since 2010, have all outside cabins, (most with balconies), twin beds or queen-size, some cabins with bathtubs, two restaurants and two panorama lounges, two viewing terraces, open-air bar, and elevators to all but the highest Deck 7.
-New Zealand: A 9-day cruise of the North and South Islands aboard LE LAPEROUSE (184 passengers) with an Australian component to Melbourne, Sydney and the Great Barrier Reef. adding up to 20 days.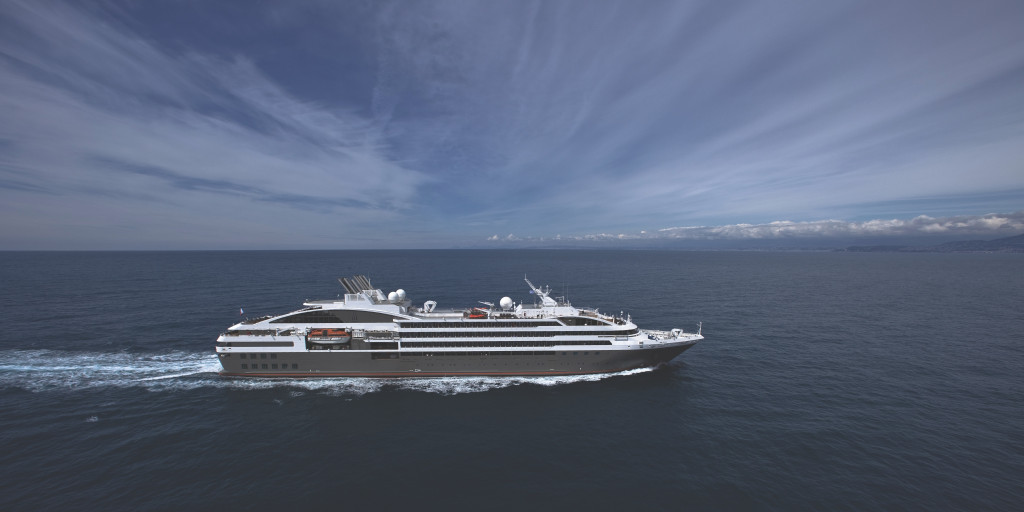 L'Austral cruises to Antarctica. * Photo: Tauck
-Japan: A week's cruise aboard Ponant's L'AUSTRAL (264 passengers) or LE SOLEOL (244 passengers)  makes a loop around southern Japan with a call at Busan, South Korea as part of a 14-day cruise tour with April departures.
Contact: TAUCK, 10 Westport Road, Wilton, CT 06897-4548. www.tauck.com; 800-468-2825
— TWS
Posted In: