Emerald Waterways.
Emerald Waterways is one of the newest river cruise line in Europe having started up in 2014 and now operating a fleet of seven similar riverboats. Known as Evergreen Waterways in Australia, the line is a division of Scenic, a multifaceted travel company. The price point is mid-range and the boats' decor would fall into the modern minimalist style.
Emerald Waterways is a real gem, offering good-value river cruises mostly in Europe, and in Russia and on the Mekong; it's owned by the same firm that operates Scenic, a higher-end line.
Ships, Years Delivered & Passengers
EMERALD STAR (built 2014 & 182 passengers), EMERALD SKY (b. 2014 & 182p), EMERALD DAWN (b. 2015 & 182p), EMERALD SUN (b. 2015 & 182p) and EMERALD DESTINY (b.2017 & 182p). Recent additions are EMERALD LIBERTE (b.2017 & 138p) on the Rhone and Soane and EMERALD RADIANCE (b.2017 & 112 p) on the Douro River in Portugal. For 2018, the ROSSIA (b. 1978, refitted 2007, 224p) 12 days between St. Petersburg & Moscow with, however, just three departures. See below for S.E. Asian river cruise-tours on the Mekong and Irrawaddy (latter suspended). For 2019, the MS SWALLOW (36 passengers) will begin cruising Croatia's Dalmatian Coast (8 days or 16 days), the latter with a land portion April to October and in 2020, the MS LASTAVICA will join the fleet, also taking up to 36 passengers. A new program for Cairo, Ancient Egypt and the Nile lasts 11 days, 15 days with Jordan added (Amman, Petra and Dead Sea), and 16 days with Ancient and modern Egypt, including a Nile cruise, and Israel.
N.B. A brand-new luxury yacht, EMERALD AZZURRA will join the fleet in the Mediterranean in summer 2021. The 100-passenger vessel will accommodate up to 100 passengers in six categories with only 6 lacking a private balcony. Decks are tiered both fore and aft thus giving easy access to the outside. The ship will mainly cruise the Mediterranean with varied eastern and western itineraries and ports of embarkation, while in the colder months she is based at Aqaba, Jordan for Red Sea cruises. The line's website reveals the ship's layout in detail.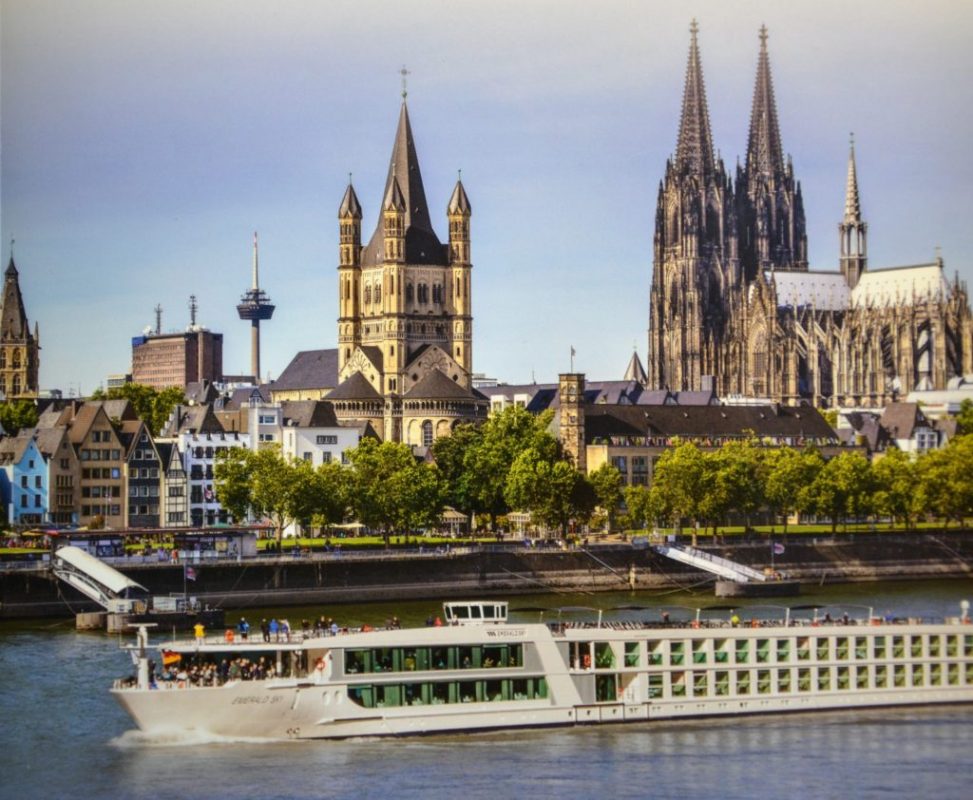 Emerald Sky cruising the Rhine. * Photo: Emerald Waterways
Passenger Profile
For the most part English-speaking from Australia, North American, and Britain.
Passenger Decks
River boats: four decks, three of them with cabins, and two more public rooms. An elevator connects the three cabin and public room decks.
Price
$$  Expensive but good value and lots included in the fares.
Included Features
Most excursions (at least one for every port) including all gratuities, biking and hiking tours, independent use of bicycles, plus transfers, pre-paid on-board gratuities, beer, wine, soft drinks, coffee and tea with lunch and dinner,  bottled water in cabins, WiFi, transfers, port charges, and some on-shore meals. More in-depth excursions are available at an extra cost through the Discover more program focusing on art, local history, culture and food.
Itineraries
Thus far the 8- to 11-day Europe River itineraries cover the Rhine, Moselle, Main and the upper and/or lower Danube, Dutch and Belgian waterways with the EMERALD SKY and EMERALD STAR and EMERALD DAWN and EMERALD SUN; and  morerecently added, the French combination of the Rhone and Soane with the EMERALD LIBERTE and Portugal's Douro with the EMERALD RADIANCE. Some cruises include an initial hotel stay and others not. Cruises Amsterdam-Budapest or v.v. last 15 days. The cruising season may begin as early as April for some itineraries and ends in October, while the final 15-day Amsterdam-Budapest cruise sails in December. Consider either combing two river cruises for a longer European stay, or if feeling independent, add city stays before and/or after the river portion in Amsterdam, Paris, Nice, Lisbon, Madrid, Budapest or Munich.
If booked through the line, transfers will be included. St. Petersburg-Moscow 12 days  aboard the ROSSIA. Emerald offers 16- and 19-day cruise tours for Vietnam, Cambodia, 7 nights on the Mekong River (MEKONG NAVIGATOR & EMERALD HARMONY) and 2 nights cruising on Halong Bay. EMERALD HARMONY is nimble enough to tie up along the capital of Ho Chi Minh rather along a Mekong tributary to then be bused to and from the city.
Ancient and modern Egyptian 10-day itineraries include a four-day Upper Nile cruise, while longer land portions add Amman and Jordan's sights (15 days) and Israel (16 days).
N.B. Suspended. Also, in Myanmar beginning in 2019, 14-day cruise tours operate between Mandalay (2 nights) and Yangon (2 nights) spend 9 nights on the Irrawaddy aboard the IRRAWADDY EXPLORER.
Adriatic cruises for 2019 will feature 8-nighters along Croatia's North Dalmatian coast round trip from Trogir. and in 2020, a second 8-nighter offering will depart from Trogir or Dubrovnik to call at the Dalmatian islands, plus Egypt (11 days) aboard MS HAMEES with Jordan added if desired (15 days).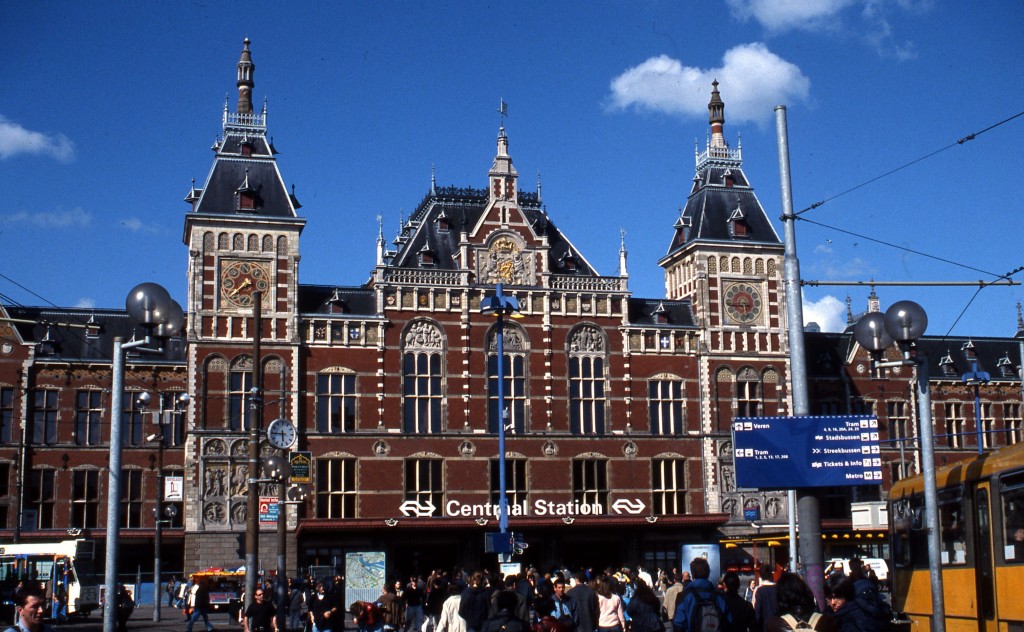 Amsterdam's Central Station. The riverboats leave from the river just behind. * Photo: Ted Scull
Why Go?
A European river cruise introduces you in the space of a week or so to several different cultures, long histories, and scenic delights with one unpacking and one packing chore. Asian river cruising is the least stressful way to see diverse culturally-rich countries.
When to Go?
Summer in Europe can be a bit hectic ashore at the most popular port calls, while May and October are less crowded months, and March/April, also times of fewer tourists, may have more unsettled weather.
Cabins
With all European vessels currently having the same layouts, the cabins, all outside, measure 117 sq. ft. for the two single cabins and from 162 to 315 sq. ft. for the others. The lowest Riviera Deck has fixed small windows while the others have large expanses of glass that open at the top with the push of a button. All cabins on Horizon and Vista Decks have an inside balcony, that is, they do not jut out, rather at the push of a button, they become an integral part of the bedroom/sitting room. Cabins come equipped with mini-fridge, TV, safe, bottled water and free WiFi. Beds may be arranged as twins or queen-size.
Public Rooms
A forward lounge with bar is connected to the covered terrace at the bow. The Sun Deck has canvas-covered and open sections, a barbecue, areas for games and a walking track that encircles almost the entire length of the deck. And how about this inventive use of space — drain the heated swimming pool with its retractable roof and presto, a cinema magically morfs, complete with a bar.
Dining
Breakfast and lunch are buffet, with additional a la carte menu selections, while dinner is a four-course served meal served with beer, wine and soft drinks in Reflections dining room. Breakfast and lunch may also be enjoyed on The Terrace, located on the covered deck at the bow. In fine weather, barbecues take place on the Sun Deck.
Activities & Entertainment
While most activities take place ashore, the line has added yoga classes and smartphone photo workshops on board. Also, there is a small swimming pool during the day and a cinema at night, deck games such chess with giant pieces, putting green, and shuffleboard, walking track, a gym, steam sauna and Finnish sauna. Musical entertainment comes aboard on selected evenings. The cruise director provides the commentary. An Activities Manager leads guide cycling tours, rural and urban hikes, athletic walks as well as helping passenger plan their own activities ashore on foot and with a bicycle.
EmeraldACTIVE offers reasonably fit passengers the chance, for instance, to take a hike in Germany's Black Forest on a Rhine cruise and on the Danube, tour by bicycle (also available for independent touring) in the scenic areas around Melk, Austria and glide along the streets of Belgrade, Serbia. The list of bike tours now includes Amsterdam, Hoorn, and Veere in the Netherlands; to Roche-de-Glun in southern France, and Melk to Durnstein along the Danube in Austria, and hikes through a vineyard in Tournon, France and a climb up to Durnstein Castle in Austria and expanding to more locations. Caloeing is also a new feature in quiet waters.
Additionally, take to a single or double kayak and paddle close to Portugal's Douro Valley's vineyards. During a lower Danube cruise, hike up to Belogradchik Fortress, a Roman-era surveillance tower built into a natural wonder. The aim is broaden the interest to appeal to a more active clientele.
*Asian Riverboat Cruises
N.B. This riverboat is not currently operating for Emerald on the Mekong. MEKONG NAVIGATOR: (built 2014 & 68 passengers). The 4-deck boat (no elevator), designed with colonial decor, has a top deck bar/lounge, separate small library, fitness and wellness areas, windowed dining room, and Sun Deck. Three categories of suites generously measure from 256 to 291 sq. ft., while the top four suites 387 and 584 sq. ft.  All, except 4 Superior Suites with portholes, have floor-to-ceiling windows and French or private balconies. The 16- and 19-day cruise-tours include Hanoi, Halong Bay, Ho Chi Minh City, a 7-day cruise and Siem Reap for the Angkor temples. EMERALD HARMONY will be able to sail up the river to the heart of Ho Chi Minh City. See below.
N.B. EMERALD HARMONY (built 2019 & 84 passengers) will join the fleet in August 2019 for Southeast Asia cruises in Vietnam and Cambodia and has the ability to sail into and out of the heart of Ho Chi Minh City, eliminating the coach transfer to and from the Mekong Delta. The five-deck riverboat has most cabins tiered in the forward part of the ship and public rooms aft with a full partly open and partly sheltered top deck. 7-day Mekong River cruise will be bracketed by land arrangements and hotel stays in both Cambodia and Vietnam extending to cruise tours of 13, 17, and 21 nights.  N.B. The Irrawaddy itinerary has been suspended for now. IRRAWADDY EXPLORER (b. 2014 & 56p) makes 14-day cruise tours between Mandalay and Yangon with a 9-day Irrawaddy River cruise.
Along the Same Lines
Other European and Asian river lines with moderate rates.
Contact: Emerald Waterways
20 Park Plaza, Suite 903, Boston, MA 02116; EmeraldWaterways.com; 884-428-8339.
— TWS
Don't miss a post, subscribe to QuirkyCruise.com for monthly updates!  
© This article is protected by copyright, no part may be reproduced by any process without written permission from the author. All Rights Reserved. QuirkyCruise.com.
Posted In: