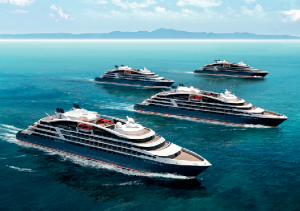 The French-flag Ponant, a small-ship cruise line, is on a major expansion kick with an order for an innovative quartet of PONANT EXPLORERS, 92-cabin ships for use on worldwide itineraries in hot, subtropical and cold climates. Besides having a certified IC (Ice Class) hull for cruising the polar regions, the ships will have a multi-sensorial underwater lounge, more about which will be revealed in May 2017. Stay tuned!
The first building block was laid on February 22nd of this year at the Norwegian Vard shipyard for Lapérouse, while Le Champlain followed on March 1st with projected deliveries in summer 2018. Le Bougainville and Le Dumont d'Urville will appear a year later.
Ponant was founded in 1988 by a dozen French Merchant Navy officers with the then mouthful title of Compagnie des Iles du Ponant, then gradually shorted to Compagnie du Ponant and now simply Ponant. The first ship was Le Ponant, a motor sailer, followed by a succession of five increasingly sophisticated ships.
Click here for more about Ponant.
— Ted Scull

Please follow and like us:
Posted In: