Amazon Clipper Cruises.
REVIEWER
Elaine Andrews from the UK.
CRUISE LINE
SHIP
Premium by Amazon Clipper.
DESTINATION
Amazon and Rio Negro, Brazil.
# OF NIGHTS
5.
DEPARTURE DATE & PORTS
February 2020 from Manaus, Brazil.
OVERALL RATING
4 out of 5 stars (5=excellent, 4=very good, 3=good, 2=poor, 1=terrible)
-Food Rating: 4
-Cabin Rating: 4
-Service/Crew Rating: 4
-Itinerary Rating: 4
HAVE YOU BEEN ON A SMALL SHIP CRUISE BEFORE?
I've been on 6 small ship cruises.
REVIEW
Amazon Clipper Premium runs 3 cruises from Manaus, a 2 night cruise on the Amazon, a 3 night cruise on the Rio Negro, and a 5 night cruise which is a combination of the two. We did the combined cruise. The Amazon Clipper Premium is a traditional style Amazon riverboat with 16 cabins. There are 4 decks, including a sundeck on top. There is a bar, air-conditioned restaurant, air-conditioned lounge, and outdoor bar and seating area and two hot tubs. This cruise is aimed at those who have an interest in the wildlife of the Amazon.
The cabins are of a good size, with a big bed (or 2 twins), plenty of storage, a small safe, air conditioning, a big PVC framed picture window with river views, which slides open and a bathroom with toilet, washbasin and shower. Toilet paper has to go in the bin.
Free tea, coffee and water are available all day, breakfast, lunch and dinner are included in the price and are all buffet style. The food was excellent, there was a good selection of food including plenty of local dishes if you were feeling adventurous. The bar was well stocked and the prices of alcohol and soft drinks seemed reasonable.
The crew was excellent and very helpful. Only the guides spoke English, but communication never seemed to be a problem. The boat was only half full for the second part of the trip, so there was plenty of space for everyone. We had 2 guides who were very knowledgeable, we were taken out on 2 canoes for the many opportunities to explore the Amazon and the River Negro. These included many early and night excursions to see wildlife (we saw lots!), we also went jungle trekking, piranha fishing and visited local communities. We saw the incredible meeting of the waters between the Amazon and the Rio Negro and had a number of opportunities to swim in the river.
The itinerary was pretty full on, we were woken at 5.50 or 6am every day, but if you want to see the wildlife, this is what you have to do. You can of course, skip excursions, but why would you? Our guides and canoe drivers worked really hard to let us see as much wildlife as possible. If I had a criticism, it would be that they were over enthusiastic and we sometimes disturbed the wildlife we were trying to see by getting too close. Also, there was a bit of duplication between the two combined cruises, but they try to minimise that.
Overall, if you want a cruise that combines the wildlife of the Amazon with the luxuries of modern life, this is the cruise for you!

RELATED:  Off the Grid: Small Ship Amazon Cruising by David Cogswell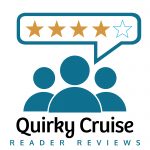 Contribute to our pool of honest reviews by real passengers. QuirkyCruise wants to hear about your latest small ship cruise for our Reader Reviews, a growing reservoir of opinions by small ship cruise lovers around the world. We don't edit or sugarcoat, we just present QuirkyCruise reader reviews straight from travelers to you.
Fill out a QuirkyCruise Reader Review FORM.
And here's an INDEX of ALL our Reader Reviews. Have a look at what fellow travelers have to say and see what floats your boat.
Don't miss a post, subscribe to QuirkyCruise.com for monthly updates & special offers!  
© This article is protected by copyright, no part may be reproduced by any process without written permission from the author. All Rights Reserved. QuirkyCruise.com.