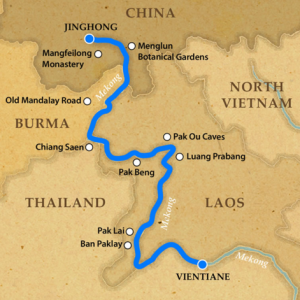 River cruise operator Pandaw is building a new ship, the Yunnan Pandaw, to put on the Upper Mekong starting in Sept 2016. Sister to the Laos Pandaw that debuted in late 2015 doing similar itineraries that have been very popular, the Yunnan will offer 14-night cruises on the Upper Mekong between Vientiane (Laos) and Jinghong (China). The new build will have 12 main deck cabins and two upper deck cabins, all with private bathrooms, air conditioning, safe and extras including kimonos and slippers. The Yunnan will be the line's 16th ship and like all of the others, will be made of traditional teak wood and brass with an ultra-shallow draft and powerful engines to navigate the mighty Upper Mekong.
Pandaw's founder Paul Strachan said: "The Upper Mekong is one of the most scenic rivers in Asia. Travel through lush jungle and friendly village communities where elephants can often be seen from the ship. In China, we visit the impressive Menglun Botanical Garden, discover Chinese tea plantations and meet some of China's minority communities that live in Yunnan Province."
Cruise-only prices start from $ 5,670 USD per person based on two people sharing a main deck twin cabin. For more information go to www.pandaw.com.
Please follow and like us:
Posted In: