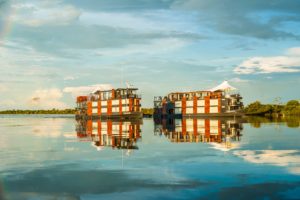 Aqua Expeditions' 12-suite Aqua Amazon (built 2007) had an explosion aboard and sank during its Saturday turnaround at Iquitos, Peru on the Itaya River, a tributary of the Upper Amazon. Reports indicate seven crew members died and 13 were injured, with eight receiving third-degree burns; no passengers were aboard. The tragedy occurred during refueling the riverboat, and an investigation is underway.
The July 16 departure was taken by the 16-suite Aria Amazon, completed in 2011. Scenic, the Australian riverboat operator, charters the two ships and also operates its own in Europe.
In October 2014, Aqua Expeditions began operating they 20-suite Aqua Mekong on the Mekong River between Siem Reap in Cambodia and Vietnam's Ho Chi Minh City.
On July 14, according to Condé Nast Traveler, the Amazon Discovery, a riverboat operated by Delfin Amazon Cruises, was boarded by bandits two hours south of Iquitos. The 55 passengers aboard, including 20 Americans, had their possessions and cash taken, with an estimated value of $20,000. The captain was injured, and the boat returned to Iquitos. Future cruises will be escorted by an armed speedboat. N.B. This operator is not reviewed by QuirkyCruise.com.
Credit: Seatrade Cruise News & Peru Reports