Emerald Waterways is a real gem, offering good-value river cruises mostly in Europe; it's owned by the same firm that operates Scenic, a higher-end line.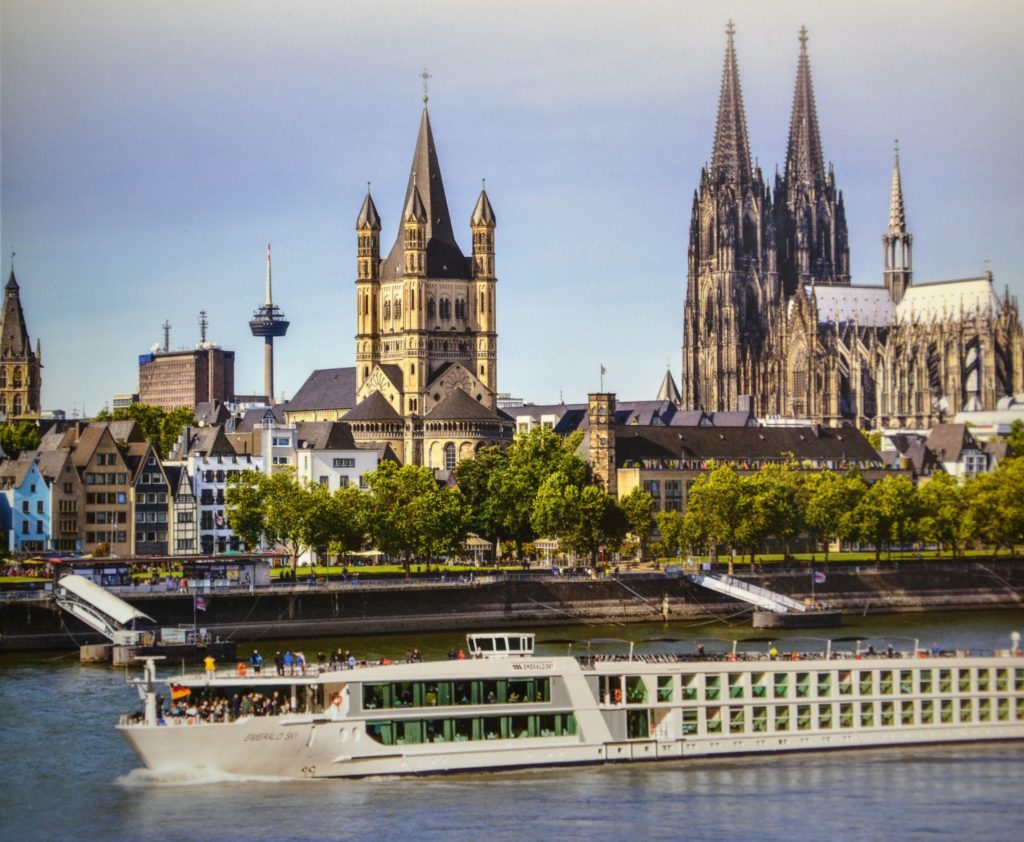 Emerald Sky cruising the Rhine. * Photo: Emerald Waterways
Snapshot: Emerald Waterways is the newest river cruise line in Europe having started up in 2014 and now operating a fleet of five identical riverboats with two more due in spring 2017. Known as Evergreen Waterways in Australia, the line is a division of Scenic, a multifaceted travel company. The price point is mid-range and the boats' decor would fall into the modern minimalist style.
Ships, Years Delivered & Passengers: EMERALD STAR, EMERALD SKY, EMERALD DAWN, EMERALD SUN and EMERALD BELLE were constructed in 2014 and 2016 and take 182 passengers. In spring 2017, EMERALD LIBERTE, 138 passengers, will begin sailing in France on the Rhone and Soane and EMERALD RADIANCE, 112 passengers, on the Douro River in Portugal.
Passenger Profile: For the most part English-speaking from North American, Britain and Australia.
Passenger Decks: Four decks, three of them with cabins, and two more public rooms. An elevator connects the three cabin and public room decks.
Price: $$  Expensive but good value and lots included in the fares.
Included features: Most excursions (one for almost every port) including gratuities, biking and hiking tours, independent use of bicycles, plus transfers, pre-paid on-board gratuities, beer, wine and soft drinks with lunch and dinner, continental breakfast served in cabins, bottles water in cabins, WiFi. More in-depth excursions are available at an extra cost.
Itineraries: Thus far the 8- to 11-day itineraries cover the Rhine, Moselle, Main and Danube, Dutch and Belgian waterways, and new for 2017, the French combination of the Rhone and Soane when the EMERALD LIBERTE arrives. Also in 2017, Portugal's Douro will be added with the EMERALD RADIANCE. Some cruises include an initial hotel stay and others not. A Bucharest-to-Nuremburg cruise tour lasts 17 days. The cruising season may begin as early as March for some itineraries and ends in October, while the final 15-day Amsterdam-Budapest cruise extends into late November. Consider either combing two river cruises for a longer European stay, or if feeling independent, add city stays before and/or after the river portion in Amsterdam, Paris, Nice, Lisbon, Madrid, Budapest or Munich. If booked through the line, transfers will be included.
2016 saw the start of two (thre4e in 2017) Asian river cruises combined with hotel stays: 16-day Highlights of Cambodia and Vietnam and a Mekong River Cruise. *See Asian Riverboat Cruises below.
Why Go? A European river cruise introduces you in the space of a week or so to several different cultures, long histories, and scenic delights with one unpacking and one packing chore. Asian river cruising is the least stressful way to see diverse culturally-rich countries.
When to Go? Summer in Europe can be a bit hectic ashore at the most popular port calls, while May and October are less crowded months, and March/April, also times of fewer tourists, may have more unsettled weather.
Cabins: With all European vessels currently having the same layouts, the cabins, all outside, measure 117 sq. ft. for the two single cabins and from 162 to 315 sq. ft. for the others. The lowest Riviera Deck has fixed small windows while the others have large expanses of glass that open at the top with the push of a button. All cabins on Horizon and Vista Decks have an inside balcony, that is, they do not jut out, rather at the push of a button, they become an integral part of the bedroom/sitting room. Cabins come equipped with mini-fridge, TV, safe, bottled water and free WiFi. Beds may be arranged as twins or queen-size.
Public Rooms: A forward lounge with bar is connected to the covered terrace at the bow. The Sun Deck has canvas-covered and open sections, a barbecue, areas for games and a walking track that encircles almost the entire length of the deck. And how about this inventive use of space — drain the swimming pool and presto, a cinema magically morfs, complete with a bar.
Dining: Breakfast and lunch are buffet, with additional a la carte menu selections, while dinner is a four-course served meal served in Reflections dining room. Break and lunch may also be enjoyed on The Terrace, located on the covered deck at the bow. In fine weather, barbecues take place on the Sun Deck.
Activities & Entertainment: Most activities take place ashore, and bicycles are available for independent touring. On board, there is a small swimming pool during the day and a cinema at night, deck games such chess with giant pieces, putting green, and shuffleboard, a gym, steam sauna and Finnish sauna. Musical entertainment comes aboard on selected evenings. The cruise director provides the commentary. Emerald Active offers reasonably fit passengers the chance, for instance, to take a hike in Germany's Black Forest on a Rhine cruise and on the Danube, tour by bicycle in the scenic areas around Melk, Austria and glide along the streets of Belgrade, Serbia.
*Asian Riverboat Cruises: MEKONG NAVIGATOR: (built 2014 & 68 passengers). The 4-deck boat (no elevator), designed with colonial decor, has a top deck bar/lounge, separate small library, fitness and wellness areas, windowed dining room, and Sun Deck. Three categories of suites generously measure from 256 to 291 sq. ft., while the top four suites 387 and 584 sq. ft.  All, except 4 Superior Suites with portholes, have floor-to-ceiling windows and French or private balconies. The 16-day cruise-tours (February-April) include Hanoi, Halong Bay, Ho Chi Minh City, a 7-day cruise and Siem Reap for the Angkor temples.
Special Notes: As this is a new line, the hardware is fresh and the service willing if not always polished.
Along the Same Lines: Other European and Asian river lines with moderate rates.
Contact: Emerald Waterways, 20 Park Plaza, Suite 903, Boston, MA 02116; EmeraldWaterways.com; 855-222-3214
— TWS
Please follow and like us:
Posted In: